free newsletter!

tell a friend!

contests

software
reviews
bestseller list
price survey
what's new
product support
search

educational tools
ask a scientist
math worksheets
vocabulary builders
hangman
iPhone/iPad apps
logic games
brain food

educational insights

feature articles

marketplace
iPhone/iPad apps
reading corner
movie corner

SuperKids home
about SuperKids
advertise!
humor
links
help


* * *

Promotions




* * *



all reviews > > > kid security software
KidDesk Internet Safe

Edmark

All Ages
Rating Scale
5 = great, 1 = poor
Effectiveness
5.0
Breadth
5.0
Ease of Use
3.5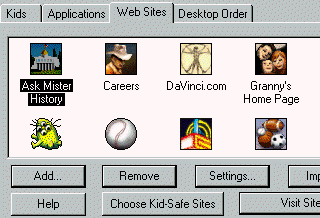 System Requirements

PC Price Survey

Product Support

With the growing popularity and wide-spread use of computers and the Internet, parents are searching for ways to protect their children from inappropriate content. KidDesk allows parents to pre-select programs and web sites and limit their children's access to them.

Installation of KidDesk allows parents to create multiple private "desktops" (i.e. what a user sees on the screen), one for each young member of the family. Parents first ensure that they will have ultimate control of the program by password protecting the access controls. KidDesk can be chosen as the default desktop, opening automatically when Windows is started and exited from the access control section only (for maximum control), or it can be accessed from the Start Menu at will. Next, parents specify personal Internet configurations. Unfortunately, the Internet security features of the program work only with Microsoft's Internet Explorer 4.0. Finally, parents add user names and choose which applications and web sites will be available for each child's individualized desktop.

Once they've been created by parents, kids will enjoy personalizing their desktops. They can choose from a variety of fun background looks, including a sporty look, an outerspace setting and for girls, the ever popular pink and purple motif. Each desktop includes a nameplate, a telephone for creating voice messages (sound-input capability required), a mailbox which allows kids to exchange e-mails with other kids using the same computer, a kid's calendar that can be updated and printed, and a picture frame that displays each child's unique (and customizable) icon. Icons for permissible programs and web sites are also displayed on the child's desktop.

Unlike many kid security systems, KidDesk does not rely on filters or blocking systems to ensure safe content on the Internet. Parents must pre-select each and every web site available to their children. The program allows parents to connect to the KidDesk web site (not otherwise available to Internet users) to access their pre-screened list of kid-safe Internet sites. Unfortunately, this list is lamentably brief.

Parents also set the level at which their child can explore each site. They can choose to allow homepage access only, or allow access to many differing levels of content provided within that site. Links to other sites cannot be pursued unless the linked site has been previously added to the child's desktop.

Access to the Internet begins with a double click on a particular web site's icon. This initiates the user's dial-up connection. Once on the Web, kids can use only the KidDesk Browser. Web pages load slowly, and navigation can be frustrating. The browser does not allow kids to type in web addresses. Although it includes "back" and "forward" buttons, kids cannot move around between web sites unless they do so through a pre-approved link. Otherwise, they must close the browser and go back to their desktop to access a different web site. Our parent testers commented that, although these limits work with very young kids, they are limiting for older grade-school users. As one parent put it: "My 3rd-grader comes home from school each day with a list of interesting web sites given out by her teacher. Although they're admirable sites, she can't access them unless I first take the time to add them to her desktop." KidDesk users can also miss out on some of the fun options associated with web use. For example, one of our testers was upset that she couldn't listen to music clips available on a music site that had been pre-approved by her parents because they lacked the foresight to also add Real Player to her desktop. Fortunately, this omission was easily resolved.

Installation of this program is fairly simple. Internet Explorer (IE) 4.0 is required, and can be installed from the CD-ROM. The user's system is then reconfigured so that, unless otherwise specified, IE 4.0 will become the user's default web browser. Both IE and a pre-existing browser can be used concurrently without too much trouble.

"Ease of use" depends on the parent's perspective. If your goal is to strictly limit access to just a few sites, KidDesk is easy to use. If, however, you wish to enable your child to access a steadily incraesing number of sites, based on their ongoing academic needs and increasing maturity, KidDesk will require ongoing and significant parental administrative involvement..

Best for... / Bottom-Line


KidDesk provides maximum security for parents who want to limit their children's Internet activity and control access to their computer's hard drives. It allows parents to take a proactive role in deciding what Internet sites their children will be viewing. It can also help teach kids to organize their personal space through their use of individualized desktops. However, the program's requirement that parents pre-specify every website their children wish to visit, severely limits the informational and educational potential of the Internet. Because of this limitation, it may not be best-suited for older children who need access to the Web for schoolwork.
PC: Windows 95 or higher, 486/66Mhz or faster cpu, 8 MB hard drive space (plus 40 MB for Internet Explorer 4.0), 8 MB RAM (16 MB recommended), Super VGA, 640x480 (256 colors or more) display, CD-ROM drive for installation, Sound card, Microphone (optional).

Reviewed on:

Pentium166 with 48MB and 12XCD
return to top of page
---


Questions or comments regarding this site? webmaster@superkids.com
Copyright © 1998-2023 Knowledge Share LLC. All rights reserved. Privacy Policy