free newsletter!

tell a friend!

contests

software
reviews
bestseller list
price survey
what's new
product support
search

educational tools
ask a scientist
math worksheets
vocabulary builders
hangman
iPhone/iPad apps
logic games
brain food

educational insights

feature articles

marketplace
iPhone/iPad apps
reading corner
movie corner

SuperKids home
about SuperKids
advertise!
humor
links
help


* * *

Promotions




* * *



all reviews > > > girls software
Barbie as Sleeping Beauty

Mattel Media

Ages 4 and up
Rating Scale
5 = great, 1 = poor
Educational Value
3.2
Kid Appeal
4.0
Ease of Use
5.0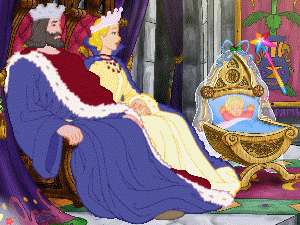 System Requirements

PC / Mac Price Survey

Product Support

Barbie sure knows how to package herself to attract the admiration of young girls. Who wouldn't fall in love with her latest personification?

A baby is born to beloved rulers, and presented with the most impressive of gifts: beauty, laughter and music. Just then trajedy in the form of the Evil Fairy appears by her cradle to forecast her death at a tender young age. Thankfully one gift remains, she will not die, but simply sleep, until she is awakened with a kiss. . .

And so the classic and enchanting tale continues to unfold, peppered with pauses to join the Princess Rose in amusing activities that offer just enough interaction to make the user feel like a contributer to, perhaps even a creator of, the heroine's destiny. Girls help open the baby Rose's birth gifts, awaken the forest creatures, design Rose's birthday gown and crown, and obtain the key that delivers her fate. As she sleeps, they care for the Sleeping Beauty, summon the prince, guide him on his trecherous journey, and ultimately help Rose abolish the evil that threatens to destroy her.

Unlike it's predecessor, Barbie as Rapunzel, this program is not presented in interactive book form. The story develops through a combination of narration and character dialogue. Furthermore, the activities, although exceedingly pleasant, make little attempt at being educational. The educational value of this program lies in its draw for young girls. They will enjoy it, and without a doubt, they will want to play it many times over. And each time they play their computer skills will advance, and their respect for and interest in the computer will increase.

Although not identical, this program does closely resemble Disney's classic fairy tale. In spite of this, some of our young testers were disappointed by the subtle differences. They noted with dismay that Maleficent is absent from this version of the story -- Rose's nemesis in this instance is an evil, but misunderstood fairy. Our kid testers also complained that the program has too few clickables, a factor that detracts from its replayability.

Despite these shortcomings, girls like Barbie, girls like fairy tales, and as expected, girls like Barbie as Sleeping Beauty. The graphics are enchanting, the animation a clever flight in fantasy, and the story a classic success.

Barbie as Sleeping Beauty installs without difficulty. The accompanying User Guide not only details each included activity, but offers Trouble Shooting tips that are worth reading even if no problems are currently occurring.

The program offers two play modes, one in which user goes through the story in order, and a second, which allows the user to explore the castle and play favorite parts as desired.

Best for... / Bottom-Line


When Barbie offers an interactive version of the classic fairy tale, little girls can't refuse. Because of the limited content and simplistic activities, this one is best for girls at the younger end of the age range.
See SuperKids' comparisons with other girls software titles, and the Buyers Guide for current market prices of the PC and the Mac versions.
PC: Windows 95/98, Multimedia Pentium 100 MHz or faster cpu, 40 MB hard drive space, 16 MB RAM, VGA color monitor, 16-bit DirectX-compatible video card, 4x or faster CD-ROM, 16-bit Sound Blaster or 100% compatible sound card.

Mac: System 7.6.1 or higher, Macintosh Power PC or faster cpu, 40 MB hard drive space, 24 MB RAM, Thousand of colors or higher video card, 4x or faster CD-ROM Built-in sound or Sound Manager 3.1 compatible sound card.

Reviewed on:

PowerMac 6400/200 with 32MB and 8XCD
Pentium266 with 64MB and 12XCD
return to top of page
---


Questions or comments regarding this site? webmaster@superkids.com
Copyright © 1998-2023 Knowledge Share LLC. All rights reserved. Privacy Policy