free newsletter!

tell a friend!

contests

software
reviews
bestseller list
price survey
what's new
product support
search

educational tools
ask a scientist
math worksheets
vocabulary builders
hangman
iPhone/iPad apps
logic games
brain food

educational insights

feature articles

marketplace
iPhone/iPad apps
reading corner
movie corner

SuperKids home
about SuperKids
advertise!
humor
links
help


* * *

Promotions




* * *



all reviews > > > girls software
Ellie's Enchanted Garden

Zowie Interactive

Ages 4 and up
Rating Scale
5 = great, 1 = poor
Educational Value
3.5
Kid Appeal
4.8
Ease of Use
4.0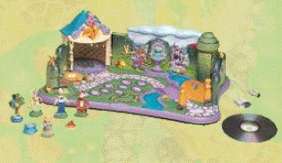 System Requirements

PC / Mac Price Survey

Product Support

Ellie and her family have just moved to a new house in a new neighborhood. Luckily, she has brought her stuffed animal friends along to help her explore her new (and extraordinary) backyard. Whether it's really enchanted, or it's all in her imagination doesn't matter a bit. Either way, there's plenty to do in Ellie's garden, and lots of fun to be had getting to know Ellie and her best friends Bingo (a monkey) and Lily (a giraffe).

This unusual new game from Zowie Intertainment combines a plastic playset and small plastic figurines with an interactive computer program. The set plugs into the PC, or can be disconnected and used independent of the computer. When used as a computer add-on, the program begins with a short video introducing Ellie and her friends. As characters are added to the set, they appear, and their movements are mirrored, on-screen. When two characters approach each other they converse on-screen. Fun and fantastical surprises also appear as the characters explore their virtual world. In addition, there are 4 interactive activities that are initiated and controlled via the playset.

This program is not highly educational. It does, however, spark the user's imagination by presenting a story that can be continued away from the computer. The included activities provide minimal educational value. The Jump Rope activity challenges the child's coordination, as she must time her character's jumping. Hopscotch is a memory game, the figurine must repeat a pattern as it hops on playset stones. In Hide and Seek the user incorporates clues and directions into a lighthearted search, and Dancing Fun lets kids 'rock-out' as they watch the characters perform their favorite dance moves. In addition to these activities, kids can alternate between three explorable playworld environments by adjusting the Clouds of Change backdrop piece so that a new scene is displayed.

Three levels allow the game to change and progress as user's grow.

The novelty alone made Ellie's Enchanted Garden a favorite for our young testers. The characters are cute and lovable, and the activities fairly re-playable. Despite these factors, parent reviewers were skeptical about the longevity of the program. They predicted that the computer component would, most likely, fade after an initial burst of play. The playset itself, however, has its own value as an attractive imagination activity, and as an exciting gift idea, it's hard to beat.

Installation of this program requires the reconfiguration of computer connections, a task which can be time consuming depending on the user's system set-up. We initially ran into a problem with the keyboard pass-thru plug, which wouldn't connect to our test machine. Upon inspection it appeared that the plug's pins had been bent in the packaging process. With the help of a paper clip, we were able to move these back into place and connect successfully. Once the hardware is installed, installation of the software is a simple and stress-free experience.

The program itself is easy to use, however program efficiency declines when more than one figure is moving at a time. This made for some uncomfortable moments when our testers attempted to play in groups. Activities became jumbled, and ultimately kids began to squabble about who was controlling the action. At times the program quit without any apparent reason -- also perhaps a function of too many different movements being detected at once. For this reason we do not recommend it for slower processors (166MHz and slower).

The playset and figures themselves are constructed of fairly durable plastic, however breakage is a reasonable concern. Repair information is available on the Zowie Interactive website (www.zowie.com), and replacement pieces can be ordered from their customer support representative.

Best for... / Bottom-Line


This innovative new program is certain to appeal to young girls in the 4 to 8 age range. Although not particularly educational, its interactive component makes it attractive as a down-time activity, while its playset component earns it a potential thumbs up on re-playability.
See SuperKids' comparisons with other girls software titles, and the Buyers Guide for current market prices of this PC-only program
PC: Windows 95/98, Pentium 166 or faster cpu, 40 MB hard drive space, 32 MB RAM, 1 MB Video Card, 4x or faster CD-ROM, Windows-compatible sound card, Available Serial Communications(COM) Port, PS/2 keyboard (or mouse) port.

Reviewed on:

Pentium 266 with 64MB and 12XCD
return to top of page
---


Questions or comments regarding this site? webmaster@superkids.com
Copyright © 1998-2023 Knowledge Share LLC. All rights reserved. Privacy Policy