free newsletter!

tell a friend!

contests

software
reviews
bestseller list
price survey
what's new
product support
search

educational tools
ask a scientist
math worksheets
vocabulary builders
hangman
iPhone/iPad apps
logic games
brain food

educational insights

feature articles

marketplace
iPhone/iPad apps
reading corner
movie corner

SuperKids home
about SuperKids
advertise!
humor
links
help


* * *

Promotions




* * *



all reviews > > > girls
Barbie Generation Girl Gotta Groove CD-ROM

Mattel Media

Ages 5 and up
Rating Scale
5 = great, 1 = poor
Educational Value
3.0
Kid Appeal
4.0
Ease of Use
4.0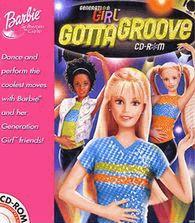 System Requirements

PC / Mac Price Survey

Product Support

Barbie Generation Girl Gotta Groove CD-ROM offers Barbie fans the opportunity to design and perform their own dance routines, using their favorite Generation Girl friends. Using an object-oriented programing approach, users select various dance moves from a selection of cards, assemble then in the order they desire by dragging and dropping, then watching the resulting routine.

And since this is a Barbie program, of course the user also gets to select the outfits, the music, and the dance floor set!

Parents who purchase Barbie Generation Girl Gotta Groove CD-ROM know that they're not getting a program that teaches integral calculus. And they also recognize that the program probably isn't focused on teaching either of the other two 'Rs'. So is there any educational value here? Our parent reviewers said, "yes."

Gotta Groove Barbie offers young girls the opportunity to choreograph their own unique dance routines, design sets, and (of course) pick out Barbie's clothes. The combination of these creative elements, and the drawing power the program will exert on young girls to the computer, merits this program's educational rating.

Our 8 year-old was drawn to this program even before the package was opened. Something about the combination of Barbie and her heavily advertised Generation Girl friends, made this a 'must open NOW' kind of program. Add to this the fact that we had 'stacked the deck' by selecting a Barbie-loving girl with 5 years of dance classes under her belt as our lead child reviewer, and we thought we'd have to tone down our kid appeal rating.

Unfortunately, after an initially captivating hour-long experience, she reported a major disappointment. "There were only five different costumes to choose from."

Keen insight that eight year-old had. We had noted that there were 300 different possible outfit combinations, when fabric color and pattern were selected. But we had not noticed that there were only five different basic outfits - the total combination count was driven by the large number of color and pattern choices.

"What about the dance choreography?" we asked. "Wasn't that the best part of the program?"

"Not really. There also weren't that many dance moves they could do. But the main problem was not enough outfits."

So there you have it, from the mouth of a pro.

Gotta Groove Barbie installed easily on our test Windows 98 machine. One thing to note - the program uses a relatively large amount of disk space (70 MB or more).

The program itself is easy for a child to use, after they figure it out, or after the parent or other older care-giver has read the manual on how to create the dance routines.

Best for... / Bottom-Line


Gotta Groove Barbie has a lot of positive attributes: great graphics and sound, popular characters, and opportunities for creativity. Unfortunately, it didn't have enough of those opportunites for our 8 year-old lead reviewer. We'd suggest it might be better suited for slightly younger girls.
See SuperKids' comparisons with other Girl's software titles, and the Buyers Guide for current market prices of this PC-only program.
PC: Windows95 or Windows98, Pentium 166MHz or faster, 70 MB hard drive space, 32 MB RAM, 16-bit graphics card and color monitor, 8X CD-ROM drive, 16-bit SoundBlaster card or compatible.

Reviewed on:

PentiumII-450 with 128MB and 32XCD
return to top of page
---


Questions or comments regarding this site? webmaster@superkids.com
Copyright © 1998-2022 Knowledge Share LLC. All rights reserved. Privacy Policy