free newsletter!

tell a friend!

contests

software
reviews
bestseller list
price survey
what's new
product support
search

educational tools
ask a scientist
math worksheets
vocabulary builders
hangman
iPhone/iPad apps
logic games
brain food

educational insights

feature articles

marketplace
iPhone/iPad apps
reading corner
movie corner

SuperKids home
about SuperKids
advertise!
humor
links
help


* * *

Promotions




* * *



all reviews > > > girls software
Barbie Riding Club

Mattel Media

Ages 5 and up
Rating Scale
5 = great, 1 = poor
Educational Value
3.2
Kid Appeal
4.0
Ease of Use
4.2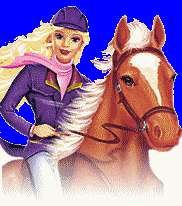 System Requirements

PC / Mac Price Survey

Product Support

Girls, Barbies and horses, what more need be said? Put the three together and youíve got a popular product, no question about it. This program also features pleasant graphics, clues unraveling a sentimental mystery, adventures, certificates and a bonus desktop pet.

The club stable is where the action begins. Here the young equestrian chooses and names her horse. Naturally all of the horses are gentle and kind, and eager to share in exciting adventures. Adoring owners can feed, wash and groom their horses at any point, always a good way to solidify a loving, trusting relationship.

All new Riding Club visitors must take a riding lesson. Here the user learns how to manipulate her virtual horse. This can be done either with the mouse, or the keyboard keys. Riders learn how to get the horse to speed up, slow down, move left or right, jump and stop. At this point the rider can choose to hit the trails, where she will wander through terrain ranging from mountains, to beaches, to valleys. She can also choose to attempt an adventure. Handwritten missions are posted on the stable bulletin board, and with Barbie as a guide they are at once interesting and easily completed. Some of the missions contain simple games that must be mastered, some earn the user reward certificates, and most result in clues leading to a satisfying surprise.

Other activities include races, where Barbie and her steed challenge friends Christie and Teresa and their loyal counterparts. Winning is not a sure bet--it requires speed and accurate jumping to achieve. Ribbons, certificates, virtual photos and physical clues can all be kept in the Barbie Riding Club Handbook for reference and enjoyment.

This program involves some problem solving, as the user is given clues and asked to use them to solve simple puzzles. In general, the play environment encourages guided creativity, imagination and role play. "Itís like a scavenger hunt," was one 11 year-old girlís comment.

Unfortunately, an opportunity for further educational enrichment is neglected in the Riding Club Handbook, where pictured horses are described by a narrator, rather than written about in a text passage.

Although some of our older reviewers (10 and up) found the program to be limiting, all appreciated the horse theme. "I would have liked more adventure missions and more mysteries," reported one reviewer. "I completed everything too quickly and then there was nothing left to do another day," said another. All admired the realistic graphics, including beach scenes, fruit orchards, an abandoned cabin and a rainbow.

Best for... / Bottom-Line


This is certainly not a highly educational product. It is, however, appealing -- especially to young horse lovers. And Barbie does look great in riding gear.
See SuperKids' comparisons with other girls software titles, and the Buyers Guide for current market prices of this PC-only title.
PC: Windows 95 or 98, Multimedia PC P-90 Pentium or faster cpu, 40 MB hard drive space, 16 MB RAM, Color monitor with 256 color graphic capabilities, Quad-speed or faster CD-ROM, 16-bit Sound Blaster or 100% compatible sound card and speakers.

Reviewed on:

Pentium166 with 24MB and 12XCD
return to top of page
---


Questions or comments regarding this site? webmaster@superkids.com
Copyright © 1998-2023 Knowledge Share LLC. All rights reserved. Privacy Policy