free newsletter!

tell a friend!

contests

software
reviews
bestseller list
price survey
what's new
product support
search

educational tools
ask a scientist
math worksheets
vocabulary builders
hangman
iPhone/iPad apps
logic games
brain food

educational insights

feature articles

marketplace
iPhone/iPad apps
reading corner
movie corner

SuperKids home
about SuperKids
advertise!
humor
links
help


* * *

Promotions




* * *



all reviews > > > encyclopedia software
World Book Millennium 2000 Deluxe Edition

IBM

Ages 8 to adult
Rating Scale
5 = great, 1 = poor
Breadth
4.0
Depth
4.0
Ease of Use
4.3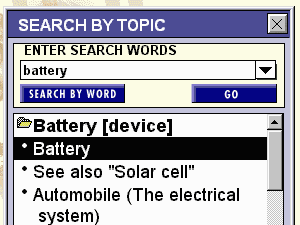 System Requirements
Price Survey:


standard


deluxe


reference suite

Product Support

When purchasing a CD encyclopedia, potential buyers must first know if it will provide answers to their questions. World Book Millennium 2000 addressed all three of our kids' research trial questions to some degree, however the answers were not always as in depth or as easy to find as one might hope.

World Book does not have a Natural Language search component, so we tackled our first question, "How does a battery work?" with a single word ("battery") search. As expected, an article on batteries was found. Within the first few paragraphs of the article, a simple answer to the question was provided. Those who have trouble understanding the terminology used in the article can double click on any given word for a dictionary definition which appears surprisingly quickly in the left sidebar (also used as the search or article outline box).

World Book also supplied an excellent, easy to understand explanation of our second question, "What is the Dow Jones Average?" including the history of the Dow Jones Average and how it is calculated. It did not, however offer a list of the companies currently included in the Average, and its online counterpart provided no additional information.

It was more difficult to find an answer to our final test question, "What is the deepest spot in the ocean, and who were the first explorers to reach it?" We initially tried a Boolean search, using the words "deep" and "ocean". The most promising sounding result, "deep sea exploration" failed to provide an answer. We then tried a simple search for the word "deep" which, in addition to being an adjective, can also be used as a noun meaning "any ocean area more than 18,000 feet deep". A brief article on "deep" provided the information we sought. We were then able to find out who was the first to reach the spot, by searching for an article about that deepest spot -- the Mariana Trench.

World Book Millenium 200 installed without difficulty on our Windows 98 test machines. It requires QuickTime 3.0.2, which will install from the CD. It also requires the user to enter a 12 character serial number from the back of the CD-holder when installing the software. Because CD cases are often lost or broken, we recommend writing the serial number directly on the CD with a permanent marker.

Of equal importance in the search for a good family CD encyclopedia is "Are the answers easy to find?" If information is difficult to access, it is fairly worthless -- especially if children are the primary users.

World Book includes a two-part main menu. "Browse" allows the user to browse the entire encyclopedia at random, or customize by selecting a category and/or content type. "Search" allows the user to navigate his or her way through the program using simple word searches, or searching by topic using Boolean searches with AND/OR/NOT entry boxes combining up to three search terms.

The basic article layout is clear and pleasing -- text is big (large is the default font size, but the other two options are also quite readable) and bold, and the background is an off-white that reduces the eyestrain common with high contrast, white backgrounds. Cutting and pasting text from the encyclopedia into the program's 'Report Wizard' counterpart, a sticky note, or a word processing document of the user's choice, is simple and trouble free. Our testers especially liked the back and forward buttons that are front and center on every screen. Their similarity to a web browser makes them user friendly and increases the ease with which users can access all parts of the program.

In the process of searching for the answers to our test questions, we discovered that, although World Book does contain most of the information we sought, it is not as well indexed as one might like, making it hard to uncover information when needed. This was apparent in our search for the first explorers to reach the deepest spot in the ocean. Better indexing and more 'related articles' information would improve this insufficiency.

World Book offers article updates which can be downloaded from their web site. To do this, the user must first configure the program to access the Internet -- it did not auto-detect our DSL connection. Given a choice, the program will open Internet Explorer as the preferred browser. Downloads are not extensive, and are not integrated into the articles, but available via a special "Related Info: Online" button. Although these updates proved interesting and at times pertinent to our searches, they cannot be accessed during topic searches, making it difficult to access the information despite its availability.

Unfortunately, the World Book Online web site is not free, even for owners of the Deluxe encyclopedia. In addition to containing the CD-ROM Encyclopedia content in its entirety, World Book Online includes information on the following topics: Today in History, Feature of the Month, Behind the Headlines, and What's Happening in (the current month). These sections in no way replace encyclopedia information or current event reporting, but provide additional interesting information for the knowledge seeker. Article links are internal rather external, a plus for libraries and home users who want control over young users' web surfing.

Additional features of this deluxe program include Homework Wizards to help students prepare reports and create web pages, and a highlighter and sticky notes for quick access to important information.

Best for... / Bottom-Line


As in the past, our testers agree that Word Book is a complete, easy-to-use encyclopedia, good for families with elementary to junior high school students and report writers. Older students and adults, however, may find the depth of information inadequate and the program's indexing and integration of related articles lacking.
PC: Windows 95/98, 486DX/100MHz or higher IBM or 100% compatible PC, 44 MB hard drive space, 16 MB RAM minimum, 32 MB RAM recommended, 16-bit color display, Double-speed CD-ROM drive, 16-bit sound card.

Reviewed on:

PentiumII 450 with 128MB and 24XCD
PentiumIII 550 with 128MB and 12XCD
return to top of page
---


Questions or comments regarding this site? webmaster@superkids.com
Copyright © 1998-2022 Knowledge Share LLC. All rights reserved. Privacy Policy