free newsletter!

tell a friend!

contests

software
reviews
bestseller list
price survey
what's new
product support
search

educational tools
ask a scientist
math worksheets
vocabulary builders
hangman
iPhone/iPad apps
logic games
brain food

educational insights

feature articles

marketplace
iPhone/iPad apps
reading corner
movie corner

SuperKids home
about SuperKids
advertise!
humor
links
help


* * *

Promotions




* * *



all reviews > > > encyclopedia software
Year 2000 Grolier Multimedia Encyclopedia Deluxe

Grolier Interactive

Ages 8 and up
Rating Scale
5 = great, 1 = poor
Breadth
4.3
Depth
4.0
Ease of Use
4.0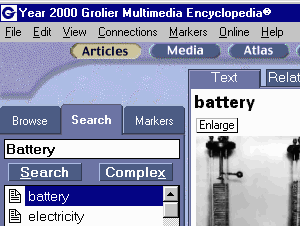 System Requirements

PC / Mac Price Survey

Product Support

The first question that a potential encyclopedia buyer must consider is "Will this product answer my children's questions?" Year 2000 Grolier Multimedia Encyclopedia (GME 2000) was successful in our trials, providing acceptable answers to all three of our test questions.

We approached our first question (How does a battery work?) with a single word search for "battery". We were rewarded with an article on batteries that provided an adequate, but difficult to understand and incomplete explanation. After identifying our web browser for the program, we clicked the online button to complete our investigation. An entirely different article on batteries appears on the related, New Book of Knowledge site. This article was obviously targeted at a younger user.

An brief, but adequate answer to our second question ("What is the Dow Jones Average") was immediately found by searching for the word "Dow". Clicking on the "related media" tab provided a list of the companies used for the Average. This list was not current, however, and an online search failed to provide updated information.

Our search for the final question "What is the deepest spot in the ocean", required a bit of knowledge and problem solving. After a Boolean search for the words "deep" and "ocean" failed us, we checked out the article on "oceanography". Scrolling through this article, we discovered an article link to the words "deep-sea life. Although this article proved fruitless, it contained an article link to the words "oceanic trench". It was in this article that we found the answer to our question as well as yet another article link ("Mariana trench") which supplied the remainder of the information we sought.

This program installed without difficulty on our test machines. It requires QuickTime 3.0, which can be installed from the CD.

GME 2000 features a double window interface, with a browse/search window on the left, and article window on the right. The content region displays each article with a series of tabs across the top that can be clicked to change the display in index-card fashion, from text, to related media, to outline and pictures. Highlighted text within an article indicates a link to another article. Non-highlighted text is linked to a dictionary that opens a new window, superimposed over the article text. Our review team was not impressed with the way the font used in articles displays on Windows 98. It is uneven, with jaggy diagonals, and worsens as the font size is increased. In addition, the program requires special characters or fonts that may need to be added to the user's font repertoire, accessed through the Windows control panel. Exportation of text to the user's word processing program is easily accomplished with a toolbar command.

The search tool permits topic or category searches, single-word or phrase searches, and complex searches that allow the user to narrow the search parameters using Boolean operators (AND, OR, NOT) to find specific information. At the bottom of the search window is a "back" button, which allows the user to return to the last article accessed. Unfortunately, there is no "forward" button, so movement between articles can be a bit awkward.

To connect to the Internet, users must first specify their browser's location information. Supporting articles can then be accessed from Grolier's The New Book of Knowledge.

We could find no article updates for this program, but did find an 'Online Links Update', that is downloaded from the Grolier web site. Unfortunately, the process is not as simple as with competing programs -- with Grolier, the user must first download a program file, then quit the encyclopedia and run the newly downloaded, self-extracting program. The resulting file must then be moved into the Grolier program folder, where it will overwrite an existing file, and then, finally become available for use.

Best for... / Bottom-Line


This complete and easy-to-use encyclopedia works well for students who want basic explanations delivered in a tried and true format. Grolier is also the only choice for Mac owners, who want a 2000 CD encyclopedia.
PC: Windows 98/95 or NT Workstation 4.0 operating system, 486 DX/100 MHz or faster cpu, 10 MB hard-disk space minimal, 70 MB free hard-disk space optimal, 16 MB RAM, SVGA 256-color video display driver, Double-speed or faster CD-ROM, Windows-compatible sound card and supporting software; wave-table sound card recommended for MIDI sound playback.

Mac: System 7.5 or higher, Macintosh LC 475, 68LC040 CPU, 25 MHz or faster, 8 MB RAM, 13 in. or larger color monitor and computer capable of displaying at least 256 colors, Double-speed or faster CD-ROM .

Reviewed on:

PowerMac 6400/200 with 32MB and 8XCD
PentiumII 450 with 128MB and 24XCD
return to top of page
---


Questions or comments regarding this site? webmaster@superkids.com
Copyright © 1998-2022 Knowledge Share LLC. All rights reserved. Privacy Policy