free newsletter!

tell a friend!

contests

software
reviews
bestseller list
price survey
what's new
product support
search

educational tools
ask a scientist
math worksheets
vocabulary builders
hangman
iPhone/iPad apps
logic games
brain food

educational insights

feature articles

marketplace
iPhone/iPad apps
reading corner
movie corner

SuperKids home
about SuperKids
advertise!
humor
links
help


* * *

Promotions




* * *



all reviews > > > CD Encyclopedia software
Comptonís 99 Encyclopedia Deluxe

The Learning Company

Ages 8 to adult
Rating Scale
5 = great, 1 = poor
Breadth
3.5
Depth
4.0
Ease of Use
3.0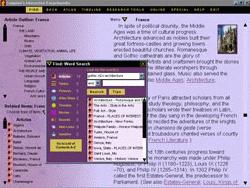 System Requirements

PC / Mac Price Survey

Product Support

When purchasing a CD encyclopedia, potential buyers must first know that it will provide the information their families need for work and school, as well as personal enrichment. Comptonís 99 Encyclopedia Deluxe did not fare well with our three kidsí research trial questions, answering only one of them completely, giving incomplete information on a second, and failing with the third.

Comptonís 99 gave a detailed answer to our middle schoolerís science question ("What is the difference between mitosis and meiosis?"), addressing each of the two methods of reproduction in admirable detail. Our panel felt that the answer was, however, a bit technical for a middle-school student, and found that much of the terminology required accessing the encyclopediaís dictionary component, a task that soon became exhausting.

The U.S. history question posed by our 11th grade inquisitor ("How many federal officials have been impeached in U.S. history and how many were convicted?") was not satisfactorily answered by this program. Although Compton's includes an article on impeachment, and lists many related articles, our reviewers were unable to specifically find the number of officials who have been impeached, nor the number convicted. A student needing to find a simple answer to this question would, therefore, need to search elsewhere.

Finally, the question asked by our elementary school student ("What is a liger, and how does it differ from a tigon?") resulted in a dead-end, as a search for the words "liger" and "tigon" proved fruitless, and a Boolean search for the words "tiger" and "lion" and "mate" also produced nothing, even when searching in the programís dictionary.

This two disk program installed without difficulty on Windows 95. Two installation options are available, a smaller version which takes up less space on the userís machine works fine, although it takes a bit more time to load files from the CD when moving between program options. As in previous versions, many of the multi-media extras are included on Disk 2, so changing disks is sometimes required.

Comptonís 99 does not recognize older, previously installed versions of itself. Therefore, our testers who had been using Comptonís 1998 Interactive Encyclopedia were not able to instantly update, but had to uninstall the earlier version. As an uninstaller was not included, this became a bit of a task, requiring use of the Windows 95 uninstaller.

Of equal importance to the depth and breadth of content, is the question, "Are the answers easy to find?" Parents in particular need to know if their children will be able to use the encyclopedia independently, or if they will become frustrated with its ability to search for specific information.

The Userís Guide, although fairly extraneous, does provide detailed explanations of all of the encyclopediaís options. A number of program tours are also available on the CD-ROM.

The layout and look of Comptonís 99 differs from its predecessors. The three distinct panels are no longer present, although three basic text areas remain. The article itself is situated on the right half of the screen, while the upper left-hand portion of the screen holds the article outline, and below that is a list of related articles. The screen background is lilac and features black text. Although our testers found the new color scheme pleasing at first, they soon realized that it made reading text more difficult than the traditional black on white.

Because of the new design, the programís word search is contained in a floating box or Ďpop-up viewerí (the "Find Viewer") that lays on top of the basic screen. Related pictures and movies are also displayed in pop-up viewers that open on top of the basic screen. The user is, therefore, quickly overwhelmed by boxes that must be moved around the screen in order to simultaneously view the article, its outline and related articles.

The "Find Viewer" itself allows the user to access topics by subject, by words or phrases using Boolean search parameters like AND, OR, NOT, and ADJ (adjacent), or alphabetically by title.

Comptonís 99 includes a word processor for cutting and pasting pertinent text to be used in studies and reports. A footnote is not automatically inserted when exported text is printed. Other research tools include a dictionary/thesaurus, a "Report Starter" which allows the user to create notecards, and a "Presentation Maker" for guided multimedia presentation development. Additional encyclopedia features abound, including a multimedia explorations, recent events, "On this Date", picture tours, an atlas and an enjoyable planetarium program.

Our users were initially unsuccessful in connecting directly from the program to the Internet. The program was unable to zutomatically locate the computer's browser information and had to have the path manually entered before a connection could be made. This accomplished, the program then initiated dial-up networking, allowing users to access a predetermined list of related web sites.

Best for... / Bottom-Line


Compton's will work best for a user who is not annoyed by the color-scheme or the "pop-up viewer" layout. While the encyclopedia did not answer all the questions posed in our test, with over 40,000 articles, it contains a wealth of information and includes many useful and fun extras.
PC: Windows 95 or later, 486DX2/66 MH or better, 15 MB free hard drive space, 16 MB RAM, 256-color SVGA display, Double-speed or faster CD-ROM, Windows-compatible sound card, Modem (required for online features only).

Reviewed on:

Pentium166 with 48MB RAM and 8XCD
return to top of page
---


Questions or comments regarding this site? webmaster@superkids.com
Copyright © 1998-2022 Knowledge Share LLC. All rights reserved. Privacy Policy