Rating Scale
5 = great, 1 = poor
Educational Value - 4.0
Kid Appeal - 4.8
Ease of Use - 4.6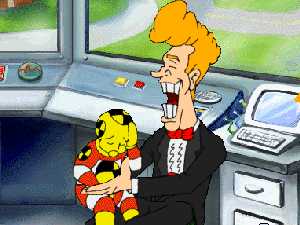 System Requirements

PC / Mac Price Survey

Product Support

With Tonka Garage, grease monkeys of all ages finally get the opportunity to work at a full-service garage, designing, building and customizing their own vehicles, without ever getting dirty! This fun program allows kids to explore the workings of a virtual service station, earn "Cool Tool" rewards, and eventually become Master Mechanics and part owners of the garage.

Tonka Garage Headquarters is bustling with activity. Many unique areas provide the user with realistic situations to pursue. The Office is where jobs are posted, vehicles are designed, decals are made, and Cool Tools are stored. At the Junkyard, the user creates metal from old vehicles that is crushed, melted and subsequently reused. Creations are painted and detailed at Paint Shop and completed masterpieces are displayed in the Showroom for all to admire.

Of course, turning out good-looking cars and trucks is only part of the garage owner's duties. Tonka Headquarters also includes a Repair Shop, where the body-work, and wheel and brake adjustment is completed. Vehicles can also be performance and crash-tested with the help of pals Crash Test Tony and his assistant Knocks.

Finally, the user can choose to join Chad, the Gas Station attendant, as he pumps gas, adds oil and changes fluids for the thankful Tonka Town population.

Although not possessed with classroom-type learning environments, Tonka Garage provides kids with a non-arcade and non-violent computer experience. Garage activities require young students to practice their fine-motor and problem-solving skills as they carefully manipulate tools and vehicles with precise mouse movement. Tools used are identified and explained, and the processes that go into designing, manufacturing and maintaining cars and trucks are detailed.

Our kid testers of both sexes enjoyed Tonka Garage. Younger kids had some difficulties maneuvering the vehicles, but with practice were able to become adequately proficient. All were enthusiastic about the portions that involve the adorable plastic crash-test dummy 'Knocks' who constantly bemoans his fate, and yet, when ejected from his seat, joyfully flips in the air, landing triumphantly on his feet. "I liked crashing the cars!" and "The test drives are the best!" were common reports.

Tonka Garage installed without a hitch on Windows 95. The User's Manual included in the CD-ROM case is very helpful in understanding how to complete certain tasks, as is the 'Help' section, which can be accessed from any screen by clicking the intercom icon.

Best for... / Bottom-Line


Kids who like cars and trucks will find that Tonka Garage is almost as good as the real thing!
PC: Windows 95, 90 MHz or faster cpu, 16 MB RAM, SVGA 8 Bit Color display, Double-speed or faster CD-ROM, Sound card

Reviewed on:

Pentium166 with 24MB and 12XCD
return to top of page
---


Questions or comments regarding this site? webmaster@superkids.com
Copyright © 1998-2023 Knowledge Share LLC. All rights reserved. Privacy Policy