free newsletter!

tell a friend!

contests

software
reviews
bestseller list
price survey
what's new
product support
search

educational tools
ask a scientist
math worksheets
vocabulary builders
hangman
iPhone/iPad apps
logic games
brain food

educational insights

feature articles

marketplace
iPhone/iPad apps
reading corner
movie corner

SuperKids home
about SuperKids
advertise!
humor
links
help


* * *

Promotions




* * *



all reviews > > > early learning software
Actimates Interactive Barney
and Fun on Imagination Island

Microsoft

Ages 2 to 5
Rating Scale
5 = great, 1 = poor
Educational Value
4.5
Kid Appeal
5.0
Ease of Use
4.5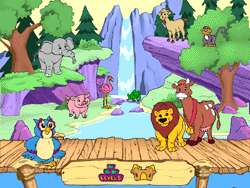 System Requirements

PC / Mac Price Survey

Product Support

Microsoft ActiMates Early Learning System, is a fascinating marriage of multiple technologies - computers, wireless radio, television, VCRs, electro-mechanical servos, and stuffed animals. Combine them all, and what do you get? A stuffed animal that interacts with special software, videotapes, Public Television broadcasts -- and children.

By itself, ActiMates Interactive Barney is a cute, purple stuffed animal, similar to the popular Teddy Ruxpin toy of the mid-1980s. But Interactive Barney goes Teddy one better. Instead of just speaking and singing the words of stories contained on cassette tapes, Barney has both a built-in repertoire of lessons, songs, and tricks, and the ability to interact with software and special television broadcasts.

Cover his eyes, and Barney says, "It sure is dark! Peekaboo! I see you!" Squeeze his hand, and he offers to play different games, like counting with your child, guessing an animal name by its sound, and an imagination game. Squeeze his toe, and listen to more than a dozen favorite chldren's songs.

Barney is fun for kids as a standalone toy, but the groundbreaking technology is only demonstrated when he is used with either of two add-on devices: a TV Pack, which adds a radio transmitter to the user's TV/VCR, and a PC Pack which does the same to a computer.

When attached to either, Barney can interact with special videotapes and television shows. Both send radio signals to Barney that enable him to sing-along with the shows, or comment on the action on screen.

Fun on Imagination Island is one of the first software programs designed to take advantage of the ActiMates technology. Similar to many other Early Learning programs for young children, Imagination Island offers a range of fun learning activities. In this program, they include such things as shape and color recognition, counting and number recognition, letters, and memory games. Each of these activities offers three levels of difficulty. But unlike conventional programs, the ActiMates software has a unique advantage -- the ready assistance of Barney, sitting alongside your child at the keyboard. Barney offers praise for correct answers, and hints when mistakes are made.

"My 3 year-old son was absolutely mesmerized, first by Barney alone, then by the interactivity," reported one Silicon Valley parent. During SuperKids' month-long trial, our parent reviewers reported sustained interest by children in the targeted age range, 2 to 5. A just-seven year-old girl, however, lost interest after the first week. Interest seemed to closely mirror the children's relative interest in the "Barney and Friends" television show.

Given the interactive technology of the ActiMates product, installation of the first title in the series is a bit more complicated than a typical software installation - but not by much! Installation first requires connecting the ActiMates transmitter, a small black disk a bit larger than a hockey puck, into the MIDI game port on the back of the PC.

Our reviewers reported one minor installation complaint -- the program does not include an uninstall utility. The user is left on his/her own to track down the various software bits and pieces the program installed.

Best for... / Bottom-Line


ActiMates Interactive Barney is a really impressive technology demonstration, wrapped into a stuffed animal character that young children find irresistible. If you've got a two to five year-old who likes Barney and stuffed animals, and a couple hundred dollars to spare, this is a neat product.
PC: Windows 95 or higher, 486SX/66 or faster or faster cpu, 10 MB hard drive space, 8 MB RAM, SVGA (800 x 600) 256 color display, 2X or faster CD-ROM, SoundBlaster or compatible sound card with MIDI game port, headphones or speaker

Reviewed on:

Pentium166 with 48MB and 12XCD
return to top of page
---


Questions or comments regarding this site? webmaster@superkids.com
Copyright © 1998-2023 Knowledge Share LLC. All rights reserved. Privacy Policy