free newsletter!

tell a friend!

contests

software
reviews
bestseller list
price survey
what's new
product support
search

educational tools
ask a scientist
math worksheets
vocabulary builders
hangman
iPhone/iPad apps
logic games
brain food

educational insights

feature articles

marketplace
iPhone/iPad apps
reading corner
movie corner

SuperKids home
about SuperKids
advertise!
humor
links
help


* * *

Promotions




* * *



all reviews > > > interactive books software
Little Explorer: Reading Fun My First Interactive Storybook

Publications International

Ages 2 to 6
Rating Scale
5 = great, 1 = poor
Educational Value
3.5
Kid Appeal
4.0
Ease of Use
5.0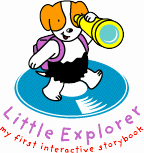 System Requirements

PC / Mac Price Survey

Product Support

This "first interactive storybook" proves that sometimes simplicity is best, especially when trying to attract and keep the attention of pre- and early readers. Accompanied by a large printed storybook,Reading Fun is set up much like other interactive books. Each screen replicates a page in the book. Also included on each screen are clickable surprises and a link to either an activity screen or a sing-a-long screen.

The story itself features amiable young Puppy and his many animal buddies. Summer is ending, and it's time for school -- a totally new experience for Puppy. Fortunately, he is delighted with the experience, and the learning, new friends and fun that it provides. The story culminates with a surprise birthday party for Puppy. Happiness and good cheer abound, school is the greatest. . .

Unlike some interactive books, Reading Fun is truly written for the early reader. Text is minimal and words are simple. Words light up as they are read, clicking on a word repeats the word, and clicking on a red word accesses a pop-up definition of the word, written in kid-friendly language. The activities are of the basic pre-reading and pre-math genre, a maze, a matching game, a word identification game, puzzles and a make-a-picture. Songs are familiar favorites.

Reading Fun was well received by our panel of kid and parent testers. Parents, concerned with the state of their computer hard drives, were delighted to find that the program requires no loading of files, but runs directly from the CD. They also appreciated the fact that even the youngest users could enjoy the program without much adult guidance. "My three year-old accesses and plays Reading Fun independently," reported one parent tester, "and he plays it often."

Everything about this program is simple, straightforward and easy. It runs from the CD-ROM, nothing to load onto the hard drive. Navigation is simple, with arrows allowing kids to move backward and forward in the story, and a compass and map that allow kids to jump to their favorite page or game.

Stars appear when the mouse is passed over an object that animates. A star in a box indicates an optional activity, while a musical note indicates a sing-a-long song. Each activity includes a green 'play' button allowing unlimited game-play, and a red 'stop' button to return the user to the story.

Best for... / Bottom-Line


As a simple interactive book this is a definite winner. SuperKids recommends it for young software users and early readers.
PC: Windows 95 or better, Pentium computer, 32 MB RAM, SVGA (640 x 480, 256 colors) display, Double-speed or faster CD-ROM, sound card.

Mac: System 7.5.3 or higher, Power PC, 32 MB RAM (16 MB available), Color Monitor (640 x 480, 256 colors), Double-speed or faster CD-ROM.

Reviewed on:

PowerMac 6400/200 with 32MB and 8XCD
Pentium166 with 48MB and 12XCD
return to top of page
---


Questions or comments regarding this site? webmaster@superkids.com
Copyright © 1998-2023 Knowledge Share LLC. All rights reserved. Privacy Policy