free newsletter!

tell a friend!

contests

software
reviews
bestseller list
price survey
what's new
product support
search

educational tools
ask a scientist
math worksheets
vocabulary builders
hangman
iPhone/iPad apps
logic games
brain food

educational insights

feature articles

marketplace
iPhone/iPad apps
reading corner
movie corner

SuperKids home
about SuperKids
advertise!
humor
links
help


* * *

Promotions




* * *



all reviews > > > interactive book software
Winnie the Pooh and Tigger Too

Disney Interactive

Ages 3 to 6
Rating Scale
5 = great, 1 = poor
Educational Value
3.5
Kid Appeal
5.0
Ease of Use
4.5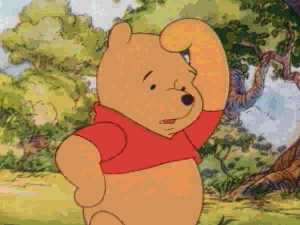 System Requirements

PC / Mac Price Survey

Product Support

Roo is adorable, Tigger erasable, Rabbit is ornery and Pooh is just Pooh. We know them all well. From book, to video and now to our computer screens. "It's just like watching a video, only there are games to play too!" reported a 5 year-old tester. In Winnie the Pooh and Tigger Too the classic tale of our favorite inhabitants of the Hundred Acre Wood is retold in interactive (and entertaining) form.

As with Disney's other animated storybooks, Winnie the Pooh and Tigger Too features a series of screens, like pages in a book, with text that highlights as it is read, and illustrations that animate as they are explored. Four of the pages additionally lead to special interactive activities that can also be accessed from the "Pick a Page" contents screen.

Much of the value of an animated storybook is found in the story-telling itself. As they hear stories told and retold, young children increase their vocabularies, and learn language composition, syntax and semantics. They furthermore begin to associate written words on the page with the spoken words of the narrator. Some may begin to recognize certain text and begin to enhance their sight-reading skills.

Aside from the above, the educational value of Winnie the Pooh and Tigger Too is not high, although youngsters do use memory, listening, and problem-solving skills in completing the special activities, and three levels of difficulty allow kids of various abilities to remain challenged. Users can choose to play a game of tic-tac-toe, a game of concentration or a game similar to "Simon", or they can choose to traverse a maze, which at times requires intricate planning in order to succeed.

Our kid testers on both ends of the age-range (3 to 6) and both sides of the gender gap were enthusiastic about this program. As usual, Disney has added just the right amount of whimsy to a story that has delighted children for years. For example, after complaining about Tigger's unruly bouncing habit the gang finally adopts the "if you can't beat 'em, join 'em" attitude and the "Everyone Bounce!" game is born. Each character squeals with laughter as s/he takes a turn bouncing. The user's task is to repeat the exact sequence followed in the bouncing 'parade'.

Our testers also enjoyed the maze. At the higher levels Pooh acquires tools to help him navigate the maze. Among these are a shovel, for clearing snow drifts, skates to cross icy puddles, and a balloon to carry him aloft over ditches. Watching Pooh sail through the air at the end of the balloon string not only amuses, it compels kids to repeat the activity over and over again.

This program installs without difficulty on Windows 95. A main screen offers easy access to the story itself, as well as visits to favorite pages. Each story screen is surrounded by a simple interface that allows kids to move freely throughout the program.

Best for... / Bottom-Line


Winnie the Pooh and Tigger Too is a simple program--just right for early computer users. The story itself makes it a favorite among Pooh lovers of all ages. Add clever animations and basic but addicting games and the result is a nothing less than success!
PC: Windows 95 or later, Pentium 90 MHz or faster cpu, 20 MB hard drive space, 16 MB RAM, 256 color display, Quad-speed or faster CD-ROM, 16-bit Windows compatible sound card.

Mac: System 7.6.1 or higher, PowerPC 75MHz or faster cpu, 10 MB hard drive space, 16 MB RAM, 256 color video display, Quad-speed or faster CD-ROM

Reviewed on:

PowerMac 6400/200 with 32MB and 8XCD
Pentium166 with 24MB and 12XCD
return to top of page
---


Questions or comments regarding this site? webmaster@superkids.com
Copyright © 1998-2023 Knowledge Share LLC. All rights reserved. Privacy Policy