free newsletter!

tell a friend!

contests

software
reviews
bestseller list
price survey
what's new
product support
search

educational tools
ask a scientist
math worksheets
vocabulary builders
hangman
iPhone/iPad apps
logic games
brain food

educational insights

feature articles

marketplace
iPhone/iPad apps
reading corner
movie corner

SuperKids home
about SuperKids
advertise!
humor
links
help


* * *

Promotions




* * *



all reviews > > > art hardware
SketchBoard Studio

KB Gear Interactive

All Ages
Rating Scale
5 = great, 1 = poor
Educational Value
3.5
Kid Appeal
5.0
Ease of Use
4.5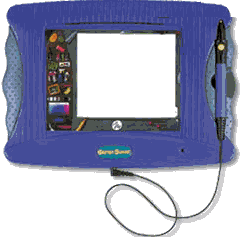 System Requirements

PC / Mac Price Survey

Product Support

This 7"x5" drawing surface and pressure sensitive pen are framed by a sturdy looking blue plastic tablet with hand grips on both sides and an attached pen holder. The pen takes the awkwardness out of computer assisted drawing, and a tracing overlay lets kids create professional looking graphics with ease. The SketchBoard comes with Disney's Magic Artist Studio software from Disney Interactive, but can be used with other software as well. Projects can be printed, emailed, and even uploaded to web pages.

Not only does SketchBoard Studio make creating original artwork fun and easy, but, when used with an art software program it can also help teach beginning computer graphics concepts. In brief, it introduces the new age of art to a new generation of Masters.

How wonderful it is to draw something that appears like magic on your computer screen! But unfortunately, using the traditional mouse to draw can be unsatisfying. Figures that are conceived of as fluid and aesthetic, may appear jerky, and misshapen. With SketchBoard Studio creating original graphics is as easy as drawing with a pen on paper. What's more, our kid testers thought of all kinds of ways to use the tablet. While younger kids used it as a fun, free-time activity, older testers created graphics to insert into homework assignments and include in emails to friends. "This is definitely not just for little kids," commented one middle school tester, while parent testers volunteered, "I like using it too!"

Despite the intimidating array of cables and connections that come packaged with this product, it is surprisingly easy to install. Our testers found the instructions to be 100% accurate, and, if followed exactly, immediately successful. Because of the differences between computers, however, we recommend installing the sketchboard when there is plenty of time available to troubleshoot. A thorough reading of the User's Manual is also recommended, for a more thorough understanding of the SketchBoard and the way it works together with Magic Artist Studio software.

Of note: when the pen is loose and not resting in its holder it can interfere with mouse use, therefore, users should be certain to replace in its holder when not in use.

Best for... / Bottom-Line


SketchBoard Studio is a nice add-on tool for kids who like to draw and enjoy creating computer assisted artwork!
PC: Windows 95/98 or later, Pentium or Pentium-compatible processor, 20 MB hard drive space, 32 MB RAM, CD-ROM drive, 16-bit sound card, Open, active 9-pin serial port or USB port, PS/2 keyboard connector (available from KB Gear Interactive).

Mac: Operating System 8.1 or later, iMac or G3 or faster cpu, 70 MB hard drive space, 32 MB RAM, CD-ROM drive, Open USB port, 3.5" floppy disk drive.

Reviewed on:

PowerMac 6400/200 with 32MB and 8XCD
Pentium550 with 128MB and 12XCD
return to top of page
---


Questions or comments regarding this site? webmaster@superkids.com
Copyright © 1998-2023 Knowledge Share LLC. All rights reserved. Privacy Policy