free newsletter!

tell a friend!

contests

software
reviews
bestseller list
price survey
what's new
product support
search

educational tools
ask a scientist
math worksheets
vocabulary builders
hangman
iPhone/iPad apps
logic games
brain food

educational insights

feature articles

marketplace
iPhone/iPad apps
reading corner
movie corner

SuperKids home
about SuperKids
advertise!
humor
links
help


* * *

Promotions




* * *



all reviews > > > art software
Nick-O-Matic Design Studio

Mattel Media

Ages 6 and up
Rating Scale
5 = great, 1 = poor
Educational Value
3.5
Kid Appeal
4.5
Ease of Use
4.0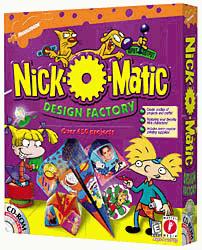 System Requirements

PC / Mac Price Survey

Product Support

This print program, featuring the characters from the Nickelodeon cartoon line-up, functions much like an adult print program of the "PrintMaster" variety. It includes a huge array of projects, all of which can be made by personalizing a readymade sample, or starting from scratch and adding graphics available within the program or importing photos and graphics from other programs. No longer do kids need to hit the stores for greeting cards, calendars, envelopes or stationery. With Nick-O-Matic Design Factory they can run their own print shops, right at home.

The Nick-O-Matic Design Studio encourages creativity by offering kids a myriad of great tools to allow them to make an infinite number of projects. As with most programs of this type, value increases as the child learns the ins and outs of the program. While novice users might satisfy themselves with personalizing cards and stationery with pre-fab stickers and graphics, more adept users can create quite professional looking original projects. Graphics and text are added, re-sized, and moved by using tools identical to those found in more sophisticated programs.

Project options include: greeting cards, signs, birthday kits (place cards, invitations, place mats, gift wrap), banners, postcards, calendars, envelopes, trading cards, stationery, online cards, certificates, stickers, and photo fun. Also included are a number of crafts projects such as airplanes, mazes and puzzles and mobiles, as well as plastic jewelry made by printing customized 'jewels' on shrink sheets.

Nick-O-Matic Design Studio appeals to kids at many age levels. Young users will enjoy decorating pre-made projects and calling them their own. Older kids, and those with experience using this type program, will find that it offers much more than simple customization of included projects. Its uses are limitless (providing, of course, the user likes the Nickelodeon cartoon characters). Our testers used the templates to print stickers advertising their athletic events, stationery for birthday presents, and calendars featuring favorite musicians and movie stars (scanned magazine photos ). In each case, testers were delighted with the results. "My friends all like Nickelodeon, so I know they'll like the cards I make with this," was one tester's comment.

Nick-O-Matic instaled without difficulty on our test machines. The CD-ROM includes an electronic manual which is the same as the one located in the plastic CD case. Reading the electronic manual requires Adobe Acrobat 3.0.1, which can be installed from the CD along with program installation.

This program can be used and enjoyed without instruction, but for optimum understanding of the many tools and how they work, we recommend that users (and/or their parents) read the manual thoroughly. In particular, sending of online greeting cards may require adult assistance. Once the card has been created, the user must specify the computer's Internet dial-up configuration (direct connection, dial-up network, or other dialer program). This done, appropriate email addresses must be entered, the send button clicked, and the email is sent.

Best for... / Bottom-Line


Craft lovers can complete plenty of enjoyable projects with this print program. However, if you don't like the Nickelodeon cartoon gang (CatDog, Rugrats, Angry Beavers, Rocko, Hey Arnold, Ren & Stimpy, KABLAM and Real Monsters), you might want to look at other programs in this category.
See SuperKids' comparisons with other art software titles, and the Buyers Guide for current market prices of this PC-only program.
PC: Windows 95/98, 100 MHz Pentium or faster cpu, 90 MB hard drive space, 16 MB RAM (32 MB RAM recommended), 800x600 display High and True color supported, Double-speed or faster CD-ROM, Modem and Internet service provider account required for Online Cards project.

Reviewed on:

Pentium166 with 24MB and 12XCD
return to top of page
---


Questions or comments regarding this site? webmaster@superkids.com
Copyright © 1998-2023 Knowledge Share LLC. All rights reserved. Privacy Policy