free newsletter!

tell a friend!

contests

software
reviews
bestseller list
price survey
what's new
product support
search

educational tools
ask a scientist
math worksheets
vocabulary builders
hangman
iPhone/iPad apps
logic games
brain food

educational insights

feature articles

marketplace
iPhone/iPad apps
reading corner
movie corner

SuperKids home
about SuperKids
advertise!
humor
links
help


* * *

Promotions




* * *



all reviews > > > art software
Looney Tunes Photofun

MGI Software

Ages 6 and up
Rating Scale
5 = great, 1 = poor
Educational Value
3.5
Kid Appeal
4.0
Ease of Use
4.0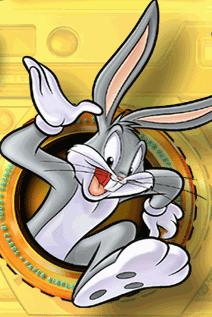 System Requirements

PC / Mac Price Survey

Product Support

This program takes kids into Bugs Bunny's Rabbit Hole, where they discover oodles of ready-made photo templates featuring Warner Brother's "Looney Tunes" characters. Users choose a project, import a photo from their computer, scanner, digital camera or the Internet, and then let their creativity flow. Among the project options are: party supplies (including party invitations, crowns, gift bags and placemats), stickers, magnets, stationery, envelopes, labels, postcards, flyers, and more. The set also contains 12 sheets of ready-to-use project papers consisting of small and large round stickers, square stickers, and postcards, and a reorder form for additional paper supplies from MGI Software.

Looney Tunes Photofun provides kids with an enjoyable creativity outlet and an entertaining way to interact with computers and learn about basic computer navigation and skills.

This program is not noticeably different from other photo-related art programs. It offers recognizable characters, sophisticated graphics and animation, and a nice array of tools to adapt and customize projects. Unlike some programs of this type, tools for inserting and altering photos do not closely mimic those found in such adult programs as Adobe's Photoshop. In general this doesn't impact the program's ease of use, but those who are accustomed to Photoshop might initially find this program awkward to use.

Our testers were enthusiastic about the program, and parents noted that whereas similar programs may lose appeal as their characters' popularity fades, the "Looney Tunes" gang has withstood the test of time and it is likely that Looney Tunes Photofun will as well.. They also commended the image importation process, which computes thumbnails of available photos to aid users in their photo selection.

This program installs easily from the program disc. The companion Photofun Book offers "gazillions" of project ideas, as well as special pages to fill with personalized stickers. Help can be accessed from within the program by double-clicking on Leo the Firefly, a character who, for unknown reasons, speaks in a computer generated voice. Online help is also readily available from the "help" menu. We encourage kids to dive in and experiment since too many directions and examples can become constraining.

Best for... / Bottom-Line


Kids who want to experiment with photo manipulation and like the "Looney Tunes" gang will enjoy this versatile art program.
See SuperKids' comparisons with other art software titles, and the Buyers Guide for current market prices of this PC-only program.
PC: Windows 95/98, Pentium 266 MHz or faster cpu, 90 MB hard drive space, 64 MB RAM, SVGA Video Card, 16-bit color display, CD-ROM drive, 100% Windows Compatible Sound Card.

Reviewed on:

Pentium550 with 128MB and 12XCD
return to top of page
---


Questions or comments regarding this site? webmaster@superkids.com
Copyright © 1998-2023 Knowledge Share LLC. All rights reserved. Privacy Policy