Creative Labs and Modern Media:
Gus Goes to Cyberopolis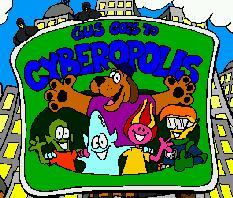 Reviewed on PowerMac 6100 with 8MB RAM and 2xCD

Interest Appeal
From:

a 2-1/2 year old: "I like the music."

a 4 year old: "I like this - it's my favorite!"

a 6 year old: "I think this program is pretty good. I'd recommend it to my friends. I especially liked when the statue came alive."

a 9 year old: "It was a fun program for me to use, but I think it would be better for 5-7 year olds who don't know as much as I do. People who like reading and using computers will like this a lot; people who are lazy bums and just sit around and watch TV probably wouldn't."
Educational Value
None of the kids remarked specifically about learning anything, but it was clear that many were introduced to new topics.





Gus Goes to
Cyberopolis
Ease of Use
* * *
Sound/Graphics Quality
* * * *
Fun Level
* * * * *
Long Term Appeal
* * * *
Educational Value
* * * *
KIDS RATING
* * * * *


See also: Editor's, Parent's, and Teacher's Reviews and the
Summary Ratings Table



Mac:
LCIII or faster, including PowerMacs, 8MB RAM, System 7.0 or later, 13" 256 color monitor or larger
---
Contents / Help


Questions or comments regarding this service? webmaster@superkids.com

Copyright © 1995