free newsletter!

tell a friend!

contests

software
reviews
bestseller list
price survey
what's new
product support
search

educational tools
math worksheets
vocabulary builders
hangman
iPhone/iPad apps
logic games
brain food

educational insights

feature articles

marketplace
iPhone/iPad apps
reading corner
movie corner

SuperKids home
about SuperKids
advertise!
humor
links
help


* * *

Promotions




* * *




* * *



home > > features > > political views
Bill Richardson on Education in America
Political Perspectives 2008
by Sabrina Maisel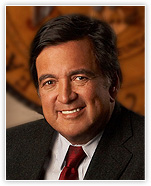 With much of the media focused on foreign affairs (Iraq, Afghanistan, Iran) and the economy, we thought we'd ask some of the campaign's big thinkers to talk with us about their thoughts on America's educational system. We started by exploring some of their memories of their own formative educational experiences, then asked what they thought were the strengths and weaknesses of today's system. Given that the world's economy is increasing global, we wondered if they recognized the importance of a superior education system to economic competitiveness, and what they would do if they could, to insure it. Here's what New Mexico Governor and Democratic candidate Bill Richardson had to say:
What do you remember most clearly about your own educational experience?
When I was 12 years old, I had a hard time when I moved from Mexico back to the United States, because of language; my English wasn't nearly as strong as my Spanish. It was tough for me to compete with kids whose only language was English. John Briggs, an English teacher, took an interest in me and helped me on my vocabulary and writing. It made a big difference in helping me transition to this new world, and I still remember it to this day.
What do you think are the best and worst features of our current educational system?
The best characteristic of our current educational system is the dedicated and hard-working corps of American teachers who spend their lives teaching our kids and helping them to grow up right.

The worst feature is how poorly those teachers are paid. Teachers need to be paid more. Period. In New Mexico we've raised teacher' salaries from 46th in the country to 29th, and we're still going up. As President, I'd have a national starting minimum wage for teachers of $40,000. Our teachers hold the keys to our children's education, which is the most important thing there is. We need to start paying them like it.
The world is flat, according to business writer Tom Friedman. Globalization means that smart people everywhere will be competing for the same jobs. Superior education would seem to be important to preserve jobs and maintain wage levels. Are we currently doing enough to succeed at this objective? If not, what will we have to do to succeed? What are the biggest obstacles to taking these actions?
America currently ranks 28th in the world in math and science. We need to be number one. The jobs of the future will require a well-educated populace.

As President, I will work closely with teachers and parents to prepare our young children for a lifetime of learning. Specifically, I will:

Fully fund Head Start—which I was a strong supporter of while in Congress.


Establish a federal Pre-K program that helps every state offer voluntary pre-kindergarten for every 4-year-old child.


Promote more parental involvement. Teachers can't educate students in a vacuum; education must be a collaborative effort between home and school, and so we must provide supplementary funding for schools to expand their parent-teacher interaction and help parents become more involved in their children's education.


Oppose private school tuition vouchers, especially when funds for vouchers compete with funds for overall improvements in America's public schools.


Support and expand the number of public charter schools, but insist that they have the same standards of accountability and access as other public schools.


Create 250 Math, Science, and Innovation Academies throughout the country.


Hire and train 100,000 new math and science teachers.

Of course, our children must be healthy in order to do well in school. With this in mind, I will also:

Make guaranteed affordable health coverage available. This coverage should be used to keep us healthy as well as to pay for our illnesses. It should be affordable and portable, so Americans retain coverage even after moving or changing jobs.


Expand SCHIP (State Children's Health Insurance Program) and improve outreach to insure every American child.


Increase obesity prevention and reduction efforts by promoting healthy lifestyles, expanding physical education in our schools, developing more stringent school nutrition guidelines, and strengthening private insurance coverage of obesity prevention and treatment for adults and children.


Expand preventive care programs. Nationally, only 5% of our health care budget is spent on prevention. One way to reduce health care expenditures and costs is to prevent major health issues from arising in the first place.

The biggest obstacle to these reforms is leadership. We need a President who will make education a priority, and to make sure that we do what is necessary for the future of our children and the future of our country. People always ask how we're going to pay for these programs, but no one ever asks how we're going to pay for war. Teaching our kids is the most important thing we can do, and it's time that we start acting like it.
What should be the role of the Federal Government in education in the 21st century?
While I would preserve and restore state and local authority over most school decisions, we need to get rid of unfunded mandates from Washington. No Child Left Behind has been under-funded by some $40 billion. It simply isn't right to demand something from the schools and then deprive them of the necessary resources to achieve what has been demanded. After scrapping No Child Left Behind, the federal government needs to:

Guarantee universal kindergarten and pre-K to all Americans
Build 250 Math, Science, and Innovation Academies.
Hire and train 100,000 new math and science teachers.

In addition, education has traditionally been funded predominantly by local governments. That's part of the reason that we have such great disparities in our public schools. Poorer localities have worse schools -- and that's a reality that needs to be resolved by more resources coming from state and federal government.
Thank you, Governor.
Link to additional information on Governor Richardson's views on educaction.
About the author
Sabrina Maisel is the SuperKids Kids Editor. She has been on SuperKids' staff since 2002, and has designed many of the math and vocabulary tools on the site in addition to writing or editing many of the site's reviews and articles.

return to top of page


---


Questions or comments regarding this site? webmaster@superkids.com
Copyright © 1998-2016 Knowledge Share LLC. All rights reserved. Privacy Policy