Knowledge Adventure's 3D Body Adventure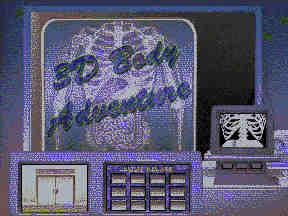 Reviewed on:
486 w/8MB, 2XCD-ROM, and
Pentium-90 w/8MB, 2XCD-ROM

Interest / Appeal
3D Body Adventure was more appealing to the kids who used it than their teachers or parents. What did they like? They were impressed by the graphics, although they were divided on the value of the flimsy 3D glasses that come with the software. One 14 year-old girl noted "I really liked how you could rotate the parts and look at all sides of the ankle joint." Others found the theater, where journeys through different body systems could be made, the most interesting. Fewer commented positively on the "emergency room" game section of the software.

Educational Value
Because of the limitations on the breadth of material in the program, most of what the children stated they learned, could be characterized as bits-and-pieces. They all seemed to walk away from using Body Adventure with tiny snippets of information about a variety of body parts, systems, and maladies. This program should be viewed as a device to intrigue or develop an interest by a child in the human body.

Fun Level
SuperKids kids reviewers all found this program to be fun. Why? The younger ones seemed to like the games, and the older ones were impressed to see human anatomy presented in a more interesting fashion than they had seen in school. Who did the kids think would like this software? "Anybody interested in the human body, and how it works." That should be good guidance for a parent considering the purchase of 3D Body Adventure.