---
---





One-on-One with the SAT
by the College Board
See also the Summary Rating Table for comparisons with other SAT Preparation software titles.
Reviewed on: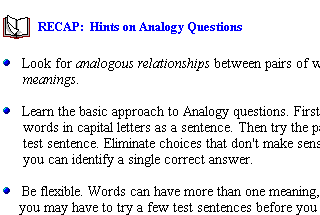 Pentium90 with 16MB


Description
The College Board, creators of the SAT, produce several study guides.
Taking the SAT I, a free booklet available from school counselors.
Real SATs, a $14 book containing eight actual exams, and
One-on-One With the SAT, a $45 software program available directly from the College Board.
Although SuperKids did not formally evaluate the software program, we did take a look at the downloadable demo version.

Description
One-on-One With the SAT is a text-oriented program, with simple graphics and sound. Practice problems offer links to a reference book, a hint button, and explanations for correct as well as incorrect answers.

Ease of Install / Use
The downloadable demo is a 1.26MB self-extracting Windows file, that expands to about 3MB when installed. Downloading and installation were problem-free. After following along with a 15 minute guided tour, we had no difficulties in navigating the program.

Methodology
One-on-One creates a personalized study plan for the user based on the results of a 3 hour pre-test, which is an actual SAT exam. The plan typically includes 8 lessons, each approximately 2 hours in length. The lessons include strategy, instructions and drills.

Best for...
One-on-One With the SAT is best suited for confident students who want to thoroughly familiarize themselves with the exam, and prefer computer-based studying.

Bottom-Line
The College Board's software is a very basic program, similar to a conventional book guide, with the addition of reference links and immediate feedback. But it lacks the humor and reassurance that several other programs offer to anxious students.


See also the Summary Rating Table for comparisons with other SAT Preparation software titles.

| | | |
| --- | --- | --- |
| | PC | Macintosh |
| Operating System | Windows 3.1 or higher | PC Only |
| CPU Type and Speed | 386 or faster | |
| Hard Drive Space | 10MB | |
| Memory (RAM) | 4 MB | |
| Graphics | VGA or greater | |
| CD-ROM Speed | floppy only | |
| Audio | Windows compatible sound card optional | |
| Other Needs | mouse | |
return to top of page
---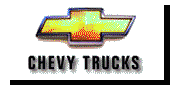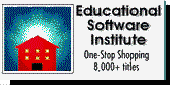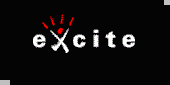 ---

What's New / Buyers Guide / Reviews / Contents / Sponsors / Help


Questions or comments regarding this service? webmaster@superkids.com

Copyright © 1996 Knowledge Share LLC All rights reserved.