---





Sound it Out Land Phonics Adventure
by 99V Phonics Reading & Writing
(previously reviewed as: Phonics Adventure with Sing-Along Sam by Panasonic
For Ages 4 through 6
See reviews of other Reading programs, and the SuperKids Buyers Guide for current market prices of the PC and Mac versions of this program.
Reviewed on: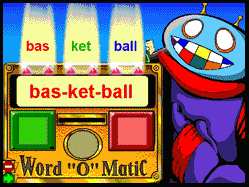 PowerMac 6100/60 with 24MB and 2XCD
Pentium166 with 16MB and a 12XCD


Content
Children who love singing along with catchy tunes will enjoy this melodic reading program. Phonics Adventure uses 16 original songs to teach basic reading skills to young children. It includes 12 sequenced lessons taught in 3 cumulative levels; Jr. Reader, Bookworm, and Superstar. The lessons progress from simple letter-sound recognition and continue through double-vowel sounds, sight reading, and simple sentences. Each lesson includes its own original song presented by either Sing-Along Sam, or one of his cartoon friends in "Sound it Out Land."

The program stresses instruction, presented in the form of songs, as opposed to practice drills. For example, rhythmic tunes explain long vowel sounds when the trailing consonant is followed by a silent "E". Rewards include arcade-style challenge games following the completion of each level, and membership in Sing-Along Sam's Hall of Fame.

In addition to the program itself, Phonics includes (on the CD) a 120 page collection of lesson plans for teachers or parents, and three levels of word lists, totaling 400 words. According to our education reviewer, "this is one of the most complete guides I've seen for this level of software - there is an impressive amount of material here that answers the question, 'how do I use this in the classroom.'"

Ease of Install / Use
Phonics Adventure was up and running on our reviewers' Macs with a click of a mouse button. No problems were reported by our reviewers on PC installations.

Phonics is an easy-to-use program, even for four to six year-olds. Our parent reviewers reported that they were generally able to get their kids started on the program, and then leave them to their own devices.

Methodology
The use of sing-along programs to teach and reinforce educational skills is a well-proven method of instruction. In this case, however, some of our parent reviewers felt that "the software creators may have attempted to use the technique too liberally. There is, after all, a limit to what a child can comprehend from songs." Others disagreed, noting that some children are better at auditory learning, than visual learning.

"The program is true to its name," noted another parent. Where some programs seem to use the word "phonics" primarily as a marketing pitch, Phonics Adventure consistently applies phonics techniques to its instruction of basic reading skills. For example, in the "Reading Robot" activity, the word CAT is presented visually and orally, then the spacing between the letters is stretched out, and each letter's sound is spoken. The letter spacing then is slowly compressed in several steps, with the sounds being repeated more quickly, until spoken at normal speed.

The two most commonly heard concerns from our parent reviewers, was the limited depth to the program, and the somewhat steep jumps in difficulty between the program's three levels. Although of no importance to a first-grade reader, a four year-old beginning reader might have to take a break between levels, to allow time for the learning to sink in. Fortunately, the program tracks each user's progress, to enable returning to the spot where they left off.

Proxy Parent Value
Our young users enjoyed listening to this program, singing each of the songs and learning the letters and their sounds. Repeat use over time will depend on the child's affinity for sing-alongs, as the activities are somewhat limited, and may not be varied enough to sustain long-term interest.

Best for...
Because of its repetitive design and simple animation, Phonics may appeal more to the quiet, less high-energy child. The songs themselves are cute and fun to sing-along with, making this a good "down-time" activity. Parents and teachers looking for a program that includes extensive help in incorporating software with an educational program will also find Phonics attractive. Children with short attention spans may tire of the somewhat limited interactivity found in this program.

Bottom-Line
Music lovers will enjoy the catchy tunes found in Phonics Adventure and learn some reading basics at the same time. Users who prefer action and quicker paced programs may want to pass on this one.


See reviews of other Reading programs, and the SuperKids Buyers Guide for current market prices of the PC and Mac versions of this program.

| | | |
| --- | --- | --- |
| | PC | Macintosh |
| Operating System | Win95, Windows 3.1 | System 7.1 or greater |
| CPU Type and Speed | 486DX2/66 or faster | 68040/25 or faster |
| Hard Drive Space | < 10 KB | none |
| Memory (RAM) | 8 MB | 8 MB |
| Graphics | SVGA 640 x 480 x 256 color | 640 x 480 x 256 color |
| CD-ROM Speed | 2X | 2X |
| Audio | Microsoft compatible sound card | n/a |
| Other Needs | | |
return to top of page
---

Buyers Guide / Reviews / Contents / Help


Questions or comments regarding this service? webmaster@superkids.com

Copyright © 1997 Knowledge Share LLC All rights reserved.