---





Professor Finkle's Times Table Factory,
from Sing 'n Learn Software
For Ages 7 to 10
See also the Summary Rating Table for comparisons with other Math software titles, the SuperKids Buyers Guide for current market prices of PC and Mac versions, and previous SuperKids reviews of Math software I and II.
Reviewed on: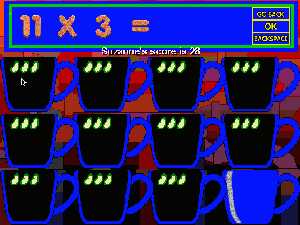 Performa 6400/200 with 32MB and 8XCD
Pentium90 with 24MB and a 2XCD


Description
Professor Finkle's Times Table Factory is an exciting and colorful program that not only drills the memorization of multiplication tables but also truly teaches them through innovative songs and interactive games.

The program includes an introduction video as well as five different categories to help learn, memorize and use multiplication tables. The video seems a bit long-winded and much of the information on "how-to" is repeated throughout each of the different sections. A quick mouse click anywhere on the screen, however, quickly takes the user to the start of the interactive portion of this software.

Learn to Multiply includes a humorous learning video and practice games. The learning methodology described in the video is in the form of m x n where the process of multiplication is explained as adding the number of m beans contained in n number of cups. Practice sessions carry the theme of cups and beans through each section to further emphasize the concept. These sessions may be customized to focus only on certain numbers.

Puzzles and Games has five different games that help users practice their multiplication knowledge. Each game presents a different approach to learning drills, and offers something for every kind of learner. Times Tables Songs offer both an audio-only version of helping the memorization process and a combination audio and video in a kereoke style game. This potentially great concept received a weak response from our young reviewers, primarily because of the unfamiliarity of the songs. Flash Card is an updated version of the age-old drill technique -- only this time it's on-line and interactive! The layout of the flash card drill is more like a factory output and could better be set up to mimic a table.

Tips and Tricks Videos offers seven videos of multiplication tricks to help the student memorize the tables. One of the games in this section, called "Inverting" might misguide the student. In mathematics, this term is generally used to refer to fractions and inverses; the rule they are teaching here is the commutative property of multiplication. It would be easier on the student if the terminology was more inline with the field.

Ease of Install / Use
The software is very easy to use due to its single goal and on-line tutorials. The software is easier to install on a Macintosh than an Intel based machine. In addition to the Times Table software, on a PC, QuickTime must also be installed.

Our reviewers encountered one ease-of-use issue during setup on both PC's and Mac machines - setting the number of colors in the display. Times Table runs much better with 16-bit or high-color graphics mode, rather than the far more commonly used 8-bit (i.e. 256) color setting. If this is not the setting on the computer, Professor Finkle will ask the user to change the setting without any clear direction on how to accomplish this.

Educational Value
This software package offers more than just rote memory practice of multiplication tables -- it genuinely teaches multiplication. It uses a standard example of having some number of one item and some number of another item and the relationship between those items. Using the cup and bean analogy taught within this package, the student can apply the method to any multiplication problem.

Kid Appeal
This software application is full of bright colors and lots of things to play with. It is extremely interactive so the student always has something to do. The student does not have to be guided through this application by an adult nor would they want to be, it might lessen the fun! The audio that accompanies the application is very nurturing; it gives lots of praise for a correct answer and lets the student off easily when an answer is incorrect. Professor Finkle has a very expressive face and his language and enthusiasm is perfect for this age group. The video portions are usually the right length to keep a child's interest until the next activity is ready. The wait time between the loading of sections is quick so there is little down time for the student to become disinterested.

Best for... / Bottom-Line
This software is best for anyone learning multiplication or memorizing the times tables. Times Tables Factory is a very well-designed and thought out application for children. It is visually and audibly captivating and should hold interest for long periods of time. It makes the memorization of multiplication fun and interesting with great rewards and fun times.


See also the Summary Rating Table for comparisons with other Math software titles, the SuperKids Buyers Guide for current market prices of PC and Mac versions, and previous SuperKids reviews of Math software I and II.

| | | |
| --- | --- | --- |
| | PC | Macintosh |
| Operating System | Win95 | System 7.1 (7.5 recommended) |
| CPU Type and Speed | 486/100 (Pentium recommended) | 68040 (PowerMac recommended) |
| Hard Drive Space | unknown | 1.5 MB |
| Memory (RAM) | 16 MB min | 16 MB min |
| Graphics | 16 bit/high color display (65,000 colors) | 16 bit/high color display (65,000 colors) |
| CD-ROM Speed | 2X minimum | 2X minimum |
| Audio | Sound Blaster compatible 16 bit card | |
| Other Needs | printer optional | printer optional |
return to top of page
---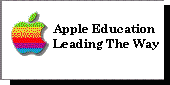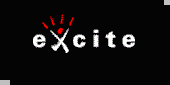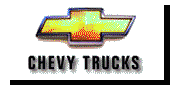 ---

Reviews / Contents / Sponsors / Help


Questions or comments regarding this service? webmaster@superkids.com

Copyright © 1997 Knowledge Share LLC All rights reserved.