---
---





Logical Journey of the Zoombinis
by Broderbund
For Ages 8 - 12
See also the:
Reviewed on: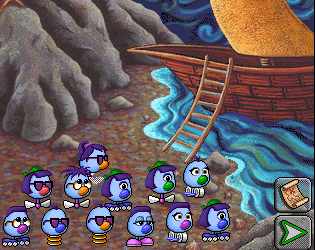 Performa 636 with 8MB and 2XCD,
Pentium90 with 8MB and a 2XCD


Content
Logical Journey of the Zoombinis is a captivating educational program designed around an escape story. The Zoombinis were a happy group of creatures (somewhat similar in appearance to the old Mr. Potato Head), whose island is taken over by the Bloats. The user's job is to help them in their escape.

Each Zoombini is characterized by four features: hair, eyes, nose and feet. Each of these features exists in five variations. The user begins by creating an escape party of 16 different looking Zoombini. Once the team is assembled they set out on a path that would make Indiana Jones proud. Just like the problems encountered by the archeology professor of cinema fame, the Zoombini's confront a dozen obstacles which must be overcome using deductive logic and creative reasoning. For example, the first obstacle in their path is a pair of rope bridges. These bridges are highly unusual, in that they are each allergic to different Zoombini features. One might be allergic to red noses and glasses, the other to blue noses and curly hair. Through trial and error, then logic, the user must help the Zoombini across the bridges.

One of the more impressive features about this program, is the potential it has for repeated use, across a broad range of ages. In fact, all of our adult reviewers felt challenged by the problems! The program can be set at 4 levels of difficulty. Equally important, the solutions for each obstacle are changed every time the program is used.

Ease of Install / Use
Logical Journey installs easily on Macs which have at least 4.9MB of free memory to run. On many common 8MB Mac models, this can be cutting it close, especially if the extensions folder holds many components. If the necessary memory is not available, the program will not run - and virtual memory does not solve the problem. Instead, the user must temporarily disable unused extensions until enough memory is available.

On a PC, our reviewers encountered only one bothersome issue: Logical Journey requires QuickTime for Windows version 2.0.3. This software is included with the program. Many users will already have QuickTime on their systems, and the installer checks for those before installing the included version. Unfortunately, the installer apparently does not always recognize if a pre-existing version is more current than the one it wants to install. We encountered no problems as a result of accepting the older version of QuickTime, but we were concerned it might cause us to encounter future problems with other software that requires a later version. A call to Broderbund's friendly technical support line produced no answers, other than the tidbit that Logical Journey does not utilize the most current version of QuickTime available.

The software runs more-or-less identically on Macs and PCs. Our reviewers found program use and navigation intuitive, but only after consulting the (excellent) manual when each obstacle was confronted.

Methodology
Logical Journey is an unconventional math program, in that numbers and arithmetic operations do not play a role. Instead, this program focuses on the logic elements of mathematics: attributes, patterns, groupings, sorting, comparisons, and problem solving. SuperKids' teacher reviewer thought this to be "...an excellent approach to introducing and practicing logical reasoning and critical thinking skills."

Proxy Parent Value
Proxy Parent Value is SuperKids' measure of how well a program captures and holds its users attention. Parents reported that Logical Journey scored exceptionally well on this measure, after their children learned what they were supposed to do at each obstacle. "He usually has a short attention span when it comes to educational software," one mother wrote about her 9 year-old son. "But he was still going strong after 90 minutes!"

Best for...
This program is best suited for children with patience, curiosity, and an interest in problem solving. Our parent reviewers reported especially strong interest by children who like video games.

Bottom-Line
Logical Journey is an exceptionally well-designed program that will clearly develop math thinking skills. It is challenging, visually captivating, and should hold long-term attention and interest. If someone is available to explain how each obstacle can be overcome, Logical Journey is also a good program for small groups and independent use in a classroom setting.


See also the:

| | | |
| --- | --- | --- |
| | PC | Macintosh |
| Operating System | Windows 3.1, Win95 | System 7.0.1 or higher |
| CPU Type and Speed | 486SX/33 or faster | 68030/25 or faster |
| Hard Drive Space | 2MB for Win3.1, 3MB for Win95 | 1MB |
| Memory (RAM) | 8MB | 8MB (4.9MB free) |
| Graphics | 640x480, 256 color | 640x480, 256 color |
| CD-ROM Speed | 2X | 2X |
| Audio | MPC-compliant sound device | Sound Manager |
| Other Needs | QuickTime SW (incl) | QuickTime SW (incl) |
return to top of page
---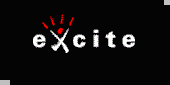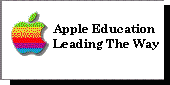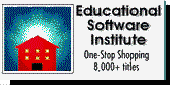 ---

Buyers Guide / Reviews / Contents / Sponsors / Help


Questions or comments regarding this service? webmaster@superkids.com

Copyright © 1996 Knowledge Share LLC All rights reserved.