---
---





Crayola Magic Wardrobe
from IBM
For Ages 6 to 12
See also the Summary Rating Table for comparisons with other Girls software titles, and the SuperKids Buyers Guide for current market prices of PC and Mac versions.
Reviewed on: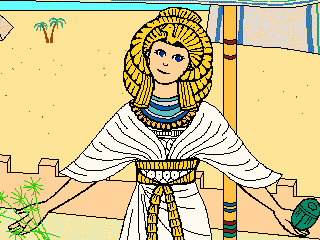 PowerMac 6400/200 with 32MB and 8XCD
Pentium133 with 32MB and 12XCD


Description
Subtitled "Time Travel with Paper Dolls", Crayola Magic Wardrobe is a combination of 'colorforms', paper dolls, a paint program, and a historical reference manual. A magic wardrobe takes the user to any of twelve places in history. These places range from Egypt in 1490 B.C., to France in 1785, to the Hippies of California in 1967. Each place features a paper doll figure in a different 'historical room' setting. Opening the wardrobe drawers with a click of the mouse reveals authentic clothing with which to outfit the paper doll. Each piece of clothing can be decorated, colored and printed to use with one of the two cardboard paper dolls that are included in the CD set.

Each of the time periods also includes a Women in the News section, which consists of a brief biography of a woman -- from Nefertiti to Joan Baez -- who impacted the history of her era. There is also a Diary section, which gives a fictional entry detailing a special day in the life of a young girl representative of that particular place and time. This section also gives the user the opportunity to imagine herself living in that period in history, and invent her own personal diary entry. Finally, the program includes a Write a Letter section which provides associated letterhead stationary to which text, color and borders can be added, and which can then be printed and used.

Ease of Install / Use
This program installed without difficulty on our reviewers' Mac and Windows 95 test machines. The CD-Rom case includes a simple manual which, for the most part, is not needed.

Educational Value
In addition to providing the user with entertaining exposure to the computer itself, Magic Wardrobe provides enrichment in the form of historical background and information. The wardrobes themselves are accurate reproductions of the clothing worn during each of the highlighted time periods, and the diary and news sections offer pertinent information in a way that avoids the negative connotations that often accompany a child's attempts to learn history.

Kid Appeal
Young girls who enjoy playing with dolls and paper dolls are likely to enjoy this program. One of the greatest features of a CD-based paper doll set is that clothes can be re-created at any time -- the user need not worry about torn tabs or misplaced accessories. "After playing with Magic Wardrobe my daughters developed an interest in fashion design," commented one parent reviewer. "They now spend hours designing and drawing their own creations."

Best for... / Bottom-Line
A fun and creative alternative to traditional paper dolls, Magic Wardrobe is a good buy in the girls software category. Although it may not sustain an older girl's interest over an extended period of time, younger girls (6-9 years old), especially those who like dressing and playing with dolls, will find that it provides many hours of enjoyment.



See also the Summary Rating Table for comparisons with other Girls software titles, and the SuperKids Buyers Guide for current market prices of PC and Mac versions.

| | | |
| --- | --- | --- |
| | PC | Macintosh |
| Operating System | Windows 3.1 or Win95 | System 7.1 or later |
| CPU Type and Speed | 486DX/66 or faster | 68040 or faster |
| Hard Drive Space | 10 MB | 10 MB |
| Memory (RAM) | 8 MB (16 MB recommended) | 8 MB (16 MB PowerPC) |
| Graphics | SVGA 640x480x256 colors | 640x480x256 colors |
| CD-ROM Speed | 2X | 2X |
| Audio | Windows-compatible sound card | |
| Other Needs | Mouse | |
return to top of page
---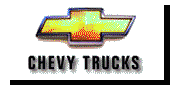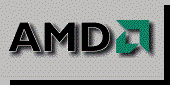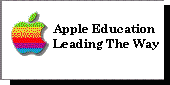 ---

Buyers Guide / Reviews / Contents / Sponsors / Help


Questions or comments regarding this service? webmaster@superkids.com

Copyright © 1997 Knowledge Share LLC All rights reserved.