---
---





World Book 1998 Multimedia Encyclopedia, Deluxe Edition
from IBM
For Ages 10 to adult
See also the Summary Rating Table for comparisons with other CD Encyclopedia software titles, and the SuperKids Buyers Guide for current market prices of this PC-only title.
Reviewed on: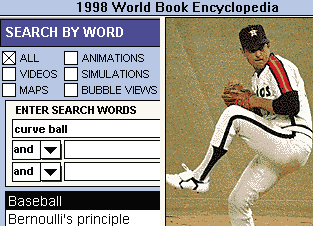 Pentium90 with 24MB and a 2XCD
Pentium166 with 24MB and a 12XCD


Description
When purchasing a CD encyclopedia, potential buyers must first know if it will provide answers to their families' questions. World Book 1998 Multimedia Encyclopedia succeeded in providing answers to all four of our kids' research trial questions, although not always with the amount of detail desired.

World Book provided very brief answers to a science question from a first grader ("How are mirrors made?"), a sports/physics question from a fifth grader ("In baseball, what makes a curve ball curve?"), and a medical question from an eighth grader ("How does general anesthesia work?"). In the case of the curve ball, the answer was found, not in the baseball article, but in a linked article on Bernoulli's principle.

World Book was unable to provide a specific explanation of a high school student's history question ("What ended the McCarthy era?"), but talked about the period in general historic terms.

Ease of Install / Use
Of equal importance in the search for a good family CD encyclopedia is "Are the answers easy to find?" If information is difficult to access, it is fairly worthless -- especially if children are the primary users.

This two disk program installed without difficulty on our Windows 95 and Windows 3.11 test machines, but required a healthy 35MB of hard drive space. World Book also required the user to enter a 12-character serial number when installing the software. Most of the information contained in the program can be found on Disk 1, while Disk 2 contains video shorts, film clips and simulations. As is the case with all the multi-disk encyclopedia, disk swapping can be annoying at times - especially when you can't find the other disk!

The program's User's Guide gives in-depth explanations of the program's various functions and is especially helpful in detailing three mini-programs, called 'Homework Wizards', that are designed to guide students doing research and writing reports.

World Book includes a two-part main menu. "Browse" allows the user to browse the entire encyclopedia at random, or customize by selecting a category and/or content type. "Search" allows the user to navigate his or her way through the program using AND/OR/NOT entry boxes to combine up to three search terms. This option proved helpful in our medical question, where we used the words "general" AND "anesthesia" to precisely pinpoint the program's discussion of this topic.

SuperKids' parent and child reviewers found the layout to be extremely clear, the text appropriate for grade-school children, and the program simple to use. Younger children were especially intrigued by the "simulations" which introduce basic scientific principles in an animated fashion.

Unlike the other CD encyclopedia, World Book users can only copy text from the encylopedia to a World Book "Notepad," not directly to their word processor. Files must be saved in Notepad as plain .txt files, or rich-text-format files which can then later be opened by most other word processors. Interestingly, this copy-and-paste functionality does not automatically generate a copyright footnote, as do the competing products.

In addition to informational articles, the program includes a dictionary, an "Around the World" section with a distance calculator and on-screen maps that can be searched and refined and a "Time Frame" section that allows the user to specify a single year or a time span and receive a selection of articles corresponding to that given period. This section has its drawbacks, however. Our reviewers found that in many instances the program found entries that had nothing to do with the selected year, but were, in fact, bibliography entries for books or articles written in that year.

Internet Connectivity
World Book's "What's Online" option provides access to article updates (one year free subscription with the Deluxe Edition); a Web site directory; and a "Month in Brief" calendar; as well as special informational sources via the World Book Web site. To access this option, the user must first register with IBM.

Best for.../ Bottom-Line
This is a complete, easy-to-use encyclopedia -- ideal for a family with elementary school students and report writers. Older students and adults, however, may find the depth of information provided inadequate.


See also the Summary Rating Table for comparisons with other CD Encyclopedia software titles, and the SuperKids Buyers Guide for current market prices of this PC-only title.

| | | |
| --- | --- | --- |
| | PC | Macintosh |
| Operating System | Windows 3.1; Win95; NT 4.0 or higher | not available |
| CPU Type and Speed | 486DX/66 or higher | |
| Hard Drive Space | 35 MB | |
| Memory (RAM) | 16 MB | |
| Graphics | SVGA 256-colors or higher | |
| CD-ROM Speed | 2X or faster | |
| Audio | 16 bit sound card | |
| Other Needs | optional - additional 8MB for oonline access; modem, Internet connection | |
return to top of page
---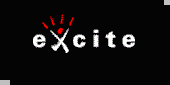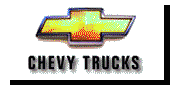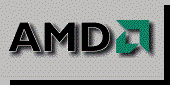 ---

Reviews / Contents / Sponsors / Help


Questions or comments regarding this service? webmaster@superkids.com

Copyright © 1997 Knowledge Share LLC. All rights reserved.