---
---





How the Leopard Got His Spots
by Microsoft
For Ages 6 to 10
See also the Summary Rating Table for comparisons with other Interactive Book software titles, and the SuperKids Buyers Guide for current market prices of the PC only version.
Reviewed on: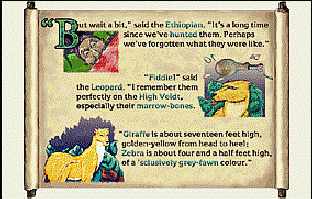 Pentium90 with 8MB and a 2XCD


Content
Microsoft's How the Leopard Got His Spots, is a beautifully narrated and illustrated version of Rudyard Kipling's classic story. Constructed around 15 basic screens, our kid reviewers (and parents) found Danny Glover's narration to be captivating. Each of the screens were colorful African 'veldt' illustrations, but with surprisingly limited amounts of animation.

In addition to the narrated illustrations, and multiple click and explore opportunities, Leopard includes four interesting games. The first, is a traditional African strategy board game, called Mancala. With three difficulty levels, and the option of playing against PJ Rabbit or a friend, this game alone will draw many kids back for months! The second game, is a set of nine jigsaw puzzles. Each allows the user to set the difficulty level, by defining the number of pieces in each puzzle, anywhere from six to 42. (42 is hard!) The third game, is a variant on the common "concentration" turn-over-the-tiles-and-match-the-hidden-objects. Instead of visual objects, Leopard uses music clips from African tribal songs! "[This] was a great listening skills builder" according to our parent reviewers. The fourth and final game was a simple click-to-color the animals scene, demonstrating the impact of different camoflage patterns.

Ease of Install / Use
How the Leopard Got his Spots installed easily on our test PC's, with two caveats: first, this is a relatively large kids program, in terms of hard disk space required (6 MB); and second, the program does not include an uninstaller -- a bothersome oversight for a large program.

Navigation through the program was relatively straightforward, as were the activities.

Methodology
Unlike most other interactive books, which settle for a limited amount of text presentation, Leopard tries to cater to both audiences who wish for more text, and those that prefer less. The basic screen sequence includes no text, whatsoever! To see the text, the user must click on a closed book, laying at the bottom of the activities screens following each of the 15 main screens. "I wish that seeing the text wasn't a non-default option," one parent noted. I'm not sure my son will ever take the time to find it." Nonetheless, if your child does take the time, he will discover a much more extensive accompaniment than most interactive books. In addition to the "read it to me" option, the text has word-by-word pronunciation and definition hyperlinks built-in.

Proxy Parent Value
Proxy parent value is SuperKids' measure of the interest-holding power of a program. Leopard's game activities scored well among our kid testers, but the interactive story itself received only moderate marks.

Best for...
How the Leopard Got His Spots, is an excellent interactive book for children who like the category, but need something more intellectually stimulating than most of the other titles we have reviewed. The story is appropriate for 6 to 10 year olds, and some of the games are appropriate for even older children.

Bottom-Line
Great story, narration, music and games, good graphics, marginal animation and click/explore opportunties.


See also the Summary Rating Table for comparisons with other Interactive Book software titles, and the SuperKids Buyers Guide for current market prices of the PC only version.


PC

Macintosh
Operating System
Windows 3.1 or later;
WIN 95
CPU Type and Speed
486SX/33 or faster
Hard Drive Space
6 MB
Memory (RAM)
4 MB
Graphics
256 color Super VGA
CD-ROM Speed
2X speed
Audio
Windows compatible sound card
Other Needs
mouse
return to top of page
---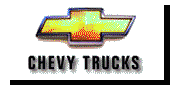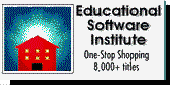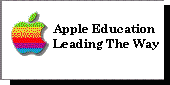 ---

Buyers Guide / Reviews / Contents / Sponsors / Help


Questions or comments regarding this service? webmaster@superkids.com

Copyright © 1996 Knowledge Share LLC All rights reserved.