---
---





Barbie Print 'n Play
from Mattel Media
For Ages 5 to adult
See also the Summary Rating Table for comparisons with other Art software titles, and the SuperKids Buyers Guide for current market prices of this PC only title.
Reviewed on: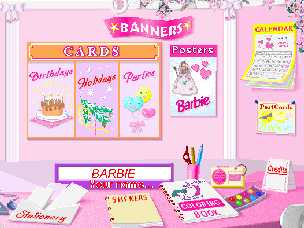 Pentium133 with 16MB and a 12XCD


Content
Here she is again, pretty in pink and certain to entice the young and creative (and female) in any household. A publishing program of the Print Shop genre, Barbie Print 'n Play includes everything any self-respecting young lady requires to fill her various stationery needs. With it, the user creates banners, stickers, party invitations, greeting cards, stationery, postcards, envelopes, calendars and more.

Accompanied by a loud, elevator-esque musical score, the user chooses from among the many publishing options. Hundreds of pre-fab designs and layouts are offered, complete with text and graphics. Personalizing the products is a simple matter, and not only provides a medium for the buddding greeting-card writer, but also offers word processing skills practice. Text can be created, letter style and fonts manipulated, and pleasing publications produced. No more last minute trips to the card store - Barbie provides it all.

Most of the program's creations can be completed using standard computer paper, however special paper products may be desired for some projects, including stickers and labels. In these instances, specific Avery products are listed, including their stock numbers. Although the program's theme is Barbie, all projects can be created with no Barbie influences, if desired.

Ease of Install / Use
Barbie installed without difficulty on our test machines running Windows 3.1 and Windows 95. The program thoughtfully includes an uninstall utility, to allow its easy eventual removal. Not apparently included, however, is a volume control setting for the background music. Our reviewers all reported having to hunt for their systems' sound control panels to reduce the sound levels.

Proxy Parent Value
Barbie is simple to use, and provides immediate rewards. Even the youngest child can learn to quickly and easily create paper products using the provided designs and templates. For creative personalization of the products, reading and writing ability as well as some keyboarding skills may be required. In these situations, younger children may need adult or older child input. As a basic addition to a girl's CD library, this program scores highly for re-usability, especially when greeting cards are a necessity.

Best for...
Any girl who appreciates the satisfaction obtained by creating something useful will enjoy this program. The most creative child can use it for basic layout and printing only, leaving out the designs and then drawing them in after printing, while others will choose to let the program provide the artwork for them.

Bottom-Line
Barbie-lover or not, most girls will be drawn to the pretty, feminine images featured in this printing program. It is fun and easy to use, and enables the user to create products that will elicit further enjoyment.


See also the Summary Rating Table for comparisons with other Art software titles, and the SuperKids Buyers Guide for current market prices of this PC only title.

| | | |
| --- | --- | --- |
| | PC | Macintosh |
| Operating System | Windows 3.1, Win95 | |
| CPU Type and Speed | 486/33 or faster | |
| Hard Drive Space | | |
| Memory (RAM) | 8 MB | |
| Graphics | | |
| CD-ROM Speed | 256 color VGA monitor | |
| Audio | multimedia | |
| Other Needs | mouse; printer to output designs (color recommended) | |
return to top of page
---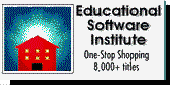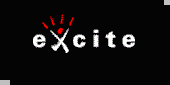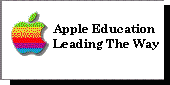 ---

Buyers Guide / Reviews / Contents / Sponsors / Help


Questions or comments regarding this service? webmaster@superkids.com

Copyright © 1997 Knowledge Share LLC All rights reserved.