Disney's Animated Storybook
Winnie the Pooh and the Honey Tree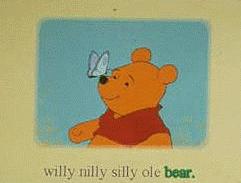 Reviewed on:
Pentium PC w/8Mb and 2XCD, and
PowerMac 6100/60 w/8Mb and 2XCD


Proxy Parent Value
"Proxy Parent Value" is SuperKids measure for how useful a program would be to a parent who needs a few minutes to get something done, but doesn't want to park his or her child in front of the television. Winnie the Pooh (WTP) scored moderately well on this dimension. It has more exploration opportunities tha its predecessor, the Lion King, but a less captivating story.

Best for...
WTP would be best for small children who are familiar with Pooh and his friends, and who are pre-readers to early readers. They will relate to the characters, voices and music, and will get a chance to follow the words, with the pictures. More advanced readers will merely find this entertaining.

Purchase Value
Our parents split on the question of "would you buy this again?" Those that would, viewed this as an interactive reading experience, building on characters their children loved. Those who said no, did so because they were looking for programs with a stronger educational focus.




Editor's and Kid's Reviews and the
Summary Ratings Table




Reviews / Contents / Sponsors / Help


Questions or comments regarding this service? webmaster@superkids.com

Copyright © 1996 Knowledge Share LLC All rights reserved.