---





Disney's
Pocahontas Animated Storybook
For Ages 3 to 9
See also the Summary Rating Table for comparisons with other Early Reading Software, and the SuperKids Buyers Guide for current market prices of PC and Mac versions.
Reviewed on: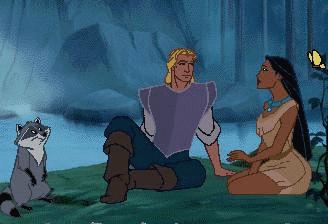 PowerMac 6100/60 with 8MB and 2XCD
Pentium90 with 8MB and a 2XCD


Content
This famous children's title faithfully tells Disney's version of the story of Pocahontas. As you might expect, fitting the contents of a feature length movie into an animated book has required some major editing. The result -- a kid-pleasing, but less rich rendition of the classic tale.

The program consists of the featured animated story, and four loosely related interactive games. The user is given the option of having the story read aloud, or interacting with the story through exploratory clicks of the mouse.

Considering the wonders Disney has brought to animation, Pocahontas is not as graphically impressive as we had hoped. Most of the graphics are beautiful illustrations, but not active animations. "You get the impression that the software is just an advertisement for the movie," commented one parent.

Ease of Install / Use
The Pocahontas CD is relatively easy to install. The only trick in running the title on a Macintosh is that you must turn off the computer's virtual memory (i.e. click on the apple, open the control panel, select memory, click virtual memory off). Surprisingly, installation was just as simple on a Windows 3.1 PC. Here, the only trick was to make sure the computer's monitor was set to 256 colors. If you are unfamiliar with installing CD software, the manual walks you through the process. A child may need help running the program for the first time, but will quickly become comfortable with it. "Pocahontas is user-friendly," noted our parents reviewer.

We have to mention that Disney now sets the standard for customer support. In addition to an excellent manual, Disney offers a toll-free help line Monday through Saturday, a TTY line for the hearing imparied, fax support, BBS support on AOL, CompuServe, Prodigy and the internet, and FTP and Gopher help files! We tried the 1-800 number and got through with no waiting to a very helpful and friendly human being!

We'd also like to note our appreciation for the uninstall icon that appeared in our program manager folder. Those of you who share our frustration in the difficulty of completely removing programs once they've outlived their usefullness understand how valuable this feature is.

Methodology
Pocahontas' educational value is strengthened by the strong affinity most of our kids reviewers demonstrated for the characters and the story. Our teachers noted that this linkage would serve to bring in children who might not be interested in sitting down with a storybook. Will it teach your child to read? No. But for children who are not yet attracted by conventional books, it might help.

In addition to the story, Pocahontas contains four games: Hoops and Arrows, Spearing Berries, Where's Meeko, and Find the Animal. Our kids reviewers enjoyed the games and often skipped the story to get straight to the games -- unless there was a parent present. Each game is supposed to help a child build certain skills such as spatial perception, observation, timing, hand-eye coordination, and critical thinking. For example, in Where's Meeko, the child searches for a raccoon on the settler's ship by clicking on possible hiding places. A child must think about where Meeko could be, remember where he or she has looked already, and maneuver the mouse properly. This activity is best for younger children who have not yet mastered observation skills.

Proxy Parent Value
Children will have fun with this program on their own until they get tired of the story. How soon will that be? The answer depends on the child's age, and level of infatuation with the Disney movie and characters. There are only four games to choose from and the different skill levels within the games do not vary greatly. "My daughter loves Pocahontas, but it does not entertain her for long stretches of time," noted a parent reviewer.

To get the most educational value out of the program, you should use it as you would a bedtime storybook (perhaps even just prior to a goodnight story), reading along with your child.

Best for...
Children who adored the movie "Pocahontas" will love this title. The software is recomended for ages three to nine, but our reviewers feel that ages three to six would be more appropriate.

Bottom-Line
If you are looking for learn-to-read software, Pocahontas is not it. But if you want some entertaining software that links a familiar story with simple text and interactive options, Pocahontas will meet your needs and probably thrill your child.

See also the Summary Rating Table for comparisons with other Early Reading Software, and the SuperKids Buyers Guide for current market prices of PC and Mac versions.



| | | |
| --- | --- | --- |
| | PC | Macintosh |
| Operating System | Win95 or Windows 3.1 or higher | System 7.1 or later |
| CPU Type and Speed | 486/25 MHz or faster | Performa 550 or better, Quadra, or PowerMac |
| Hard Drive Space | 10 MB | n/a |
| Memory (RAM) | 8 MB | 8 MB |
| Graphics | 256 color monitor | 256 color monitor with 640 x 480 resolution |
| CD-ROM Speed | 2x | 2x |
| Audio | Sound Blaster or compatible | n/a |
| Other Needs | Mouse | n/a |
return to top of page
---
Ratings Summary

The Details

Disney's
Pocahontas Animated Storybook
Ease of Install
* * * * *
Ease of Use
* * * * *
Manual Utility
* * * * *
Technical Support
* * * * *
Fun Factor
* * * *
Educational Value
* * *
EDITOR'S RATING
* * * *

Disney's
Pocahontas Animated Storybook
Interest Holding Power
* * * *
Parent Friendly
* * * * *
Independent Activity Value
* * * *
Educational Value
* * *
Purchase Value
* * *
PARENT'S RATING
* * * *

Disney's
Pocahontas Animated Storybook
Ease of Use
* * * * *
Sound/Graphics Quality
* * * *
Fun Level
* * * *
Long Term Appeal
* * *
Educational Value
* *
KIDS RATING
* * * *

back to top of page
---
---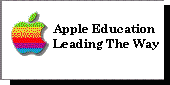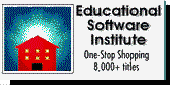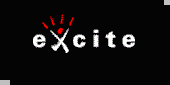 ---

Buyers Guide / Reviews / Contents / Sponsors / Help


Questions or comments regarding this service? webmaster@superkids.com

Copyright © 1996 Knowledge Share LLC All rights reserved.