free newsletter!

tell a friend!

contests

software
reviews
bestseller list
price survey
what's new
product support
search

educational tools
math worksheets
vocabulary builders
hangman
iPhone/iPad apps
logic games
brain food

educational insights

feature articles

marketplace
iPhone/iPad apps
reading corner
movie corner

SuperKids home
about SuperKids
advertise!
humor
links
help


* * *

Promotions




* * *




* * *



features > > Saturn > > pictures

Best Pictures Saturn
OK, we'll admit it. "Best" is a subjective term, especially when it comes to appearances. However, our editorial staff was unanimous in its approval of these pictures of Saturn, the ringed planet. See what you think!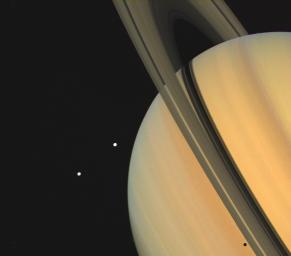 Saturn and two of its moons, Tethys (above) and Dione, were photographed by Voyager 1 on November 3, 1980, from 13 million kilometers (8 million miles). The shadows of Saturn's three bright rings and Tethys are cast onto the cloud tops.
[click on picture to see larger version]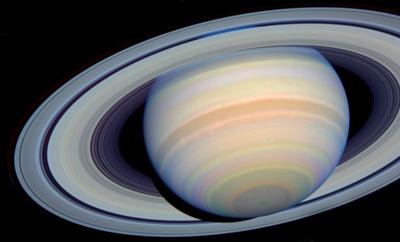 A Hubble Space Telescope image of Saturn in true color.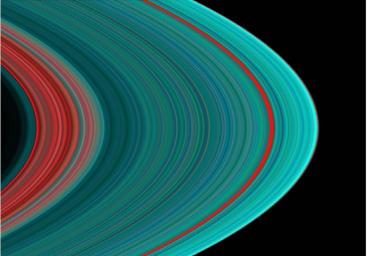 This image was taken with Cassini's Ultraviolet Imaging Spectrograph instrument, which is capable of resolving the rings to show features up to 97 kilometers (60 miles) across, roughly 100 times the resolution of ultraviolet data obtained by the Voyager 2 spacecraft.
[click on picture to see larger version]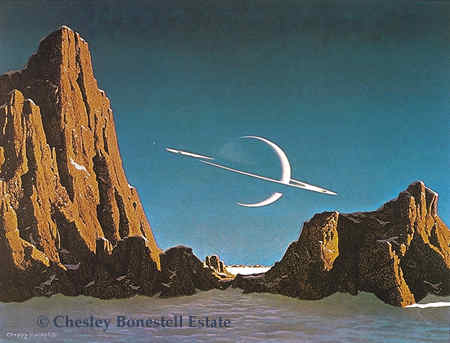 Saturn as Seen from Mars - painted by Chesley Bonestell in 1944, and published in Life Magazine in 1949. Courtesy Novaspace.com





Sources: NASA, except where otherwise noted.

return to top of page


---


Questions or comments regarding this site? webmaster@superkids.com
Copyright © 1998-2016 Knowledge Share LLC. All rights reserved. Privacy Policy