free newsletter!

tell a friend!

contests

software
reviews
bestseller list
price survey
what's new
product support
search

educational tools
math worksheets
vocabulary builders
hangman
iPhone/iPad apps
logic games
brain food

educational insights

feature articles

marketplace
iPhone/iPad apps
reading corner
movie corner

SuperKids home
about SuperKids
advertise!
humor
links
help


* * *

Promotions




* * *




* * *



features > > Saturn > > pictures from Huygens

Pictures from Titan
These are the first photographs ever taken from the moon of another planet! Captured January 14, 2005, by the Eurpean Space Agency's Huygens space probe, and relayed by NASA's Cassini orbital spacecraft. Wow!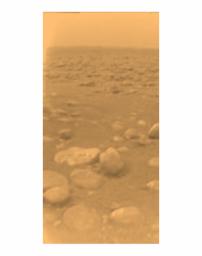 This is a colored view of one of the first pictures from the surface of Titan, following processing to add reflection spectra data, and gives a better indication of the actual color of the surface. Initially thought to be rocks or ice blocks, they are more pebble-sized. The two rock-like objects just below the middle of the image are about 15 centimeters (about 6 inches) (left) and 4 centimeters (about 1.5 inches) (center) across respectively, at a distance of about 85 centimeters (about 33 inches) from Huygens. The surface is darker than originally expected, consisting of a mixture of water and hydrocarbon ice. There is also evidence of erosion at the base of these objects, indicating possible fluvial activity.
[click on picture to see larger version]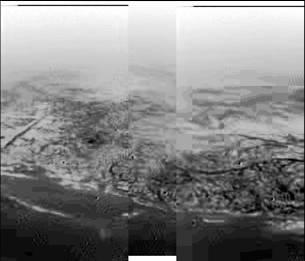 This composite was produced from images returned January 14, 2005, by the European Space Agency's Huygens probe during its successful descent to land on Titan. It shows the boundary between the lighter-colored uplifted terrain, marked with what appear to be drainage channels, and darker lower areas. These images were taken from an altitude of about 8 kilometers (about 5 miles) and a resolution of about 20 meters (about 65 feet) per pixel. The images were taken by the Descent Imager/Spectral Radiometer, one of two NASA instruments on the probe.




This is one of the first raw images returned by the ESA Huygens probe during its successful descent. It was taken from an altitude of 16.2 kilometres with a resolution of approximately 40 metres per pixel. It apparently shows short, stubby drainage channels leading to a shoreline. It was taken with the Descent Imager/Spectral Radiometer, one of two NASA instruments on the probe.





Image Credit: ESA/NASA/Univ. of Arizona

return to top of page


---


Questions or comments regarding this site? webmaster@superkids.com
Copyright © 1998-2016 Knowledge Share LLC. All rights reserved. Privacy Policy